Learn more about our various pedagogical resources on archives and counter-archives.
Educational Guides
One of the central goals of Archive/Counter-archive is to increase public engagement with our partner organizations and their collections through an "activation" of archival materials that foregrounds the pressing need to rethink what archives can/might do in the 21st century. In order to achieve this goal, we have developed a series of Educational Guides designed to accompany film and video from A/CA's Case Studies and facilitate their integration into K-12 and postsecondary classrooms through explicit links to the curriculum and suggestions for classroom discussion. In the same way that A/CA is interested in the disruptive, resistant, and enriching potential of counter-archives, we envision these Educational Guides as a kind of counter-curriculum that mobilize new images, stories, and histories in schools. In this way, we hope they cultivate what might be described as an "educational common" to the extent that they work toward facilitating pedagogical spaces that understand storytelling as a heterogenous, community- driven, and relational practice.1 The educational common must be produced rather than discovered, continually recreated via collaboration and cooperation, and we hope the A/CA Educational Guides can facilitate such collaboration between the partner archives and public schools. Each of the A/CA Educational Guides is designed for a particular education level and/or curriculum area. However, the guides are also easily adaptable to different grades and subjects, and educators are encouraged to use these guides as a starting point to create their own lesson plans. Each guide contains important contextual information about the materials featured, including information on key participants, essays and reflections, and synopses of selected works for classroom discussion. The guides also include critical discussion questions oriented toward a range of topics in the areas of both form and content to encourage students and teachers to engage critically with A/CA's archival materials by making connections between their context of creation and contemporary issues and experiences.
1See Low, Brushwood Rose, and Salvio, Community-Based Media Pedagogies: Relational Practices of Listening in the Commons. Routledge, 2016.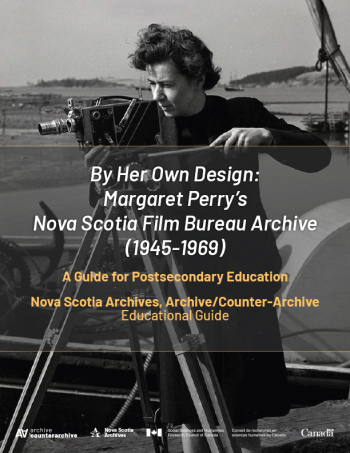 NOVA SCOTIA ARCHIVES CASE STUDY
Margaret Perry is one of Canada's most important, most prolific, yet least-known woman filmmakers and early film bureaucrats. Perry's films are complex artefacts that merit careful and critical reflection. During her 24 years at the helm of the Nova Scotia Film Bureau, Perry oversaw the production and direction of over 50 films. Yet, because not much is known about her work as a filmmaker, Perry's films have been dismissed, often without being seen, on charges of their "anti-modern" depictions of Nova Scotia. And yet, Perry's films are significant for their creative depictions of a place and time about which limited film records remain and as a cinematic testament to the career of a trail-blazing and visionary filmmaker. The five download guides listed below reintroduce and critically reframe Margaret Perry and the contribution of her films. They include important contextual information about Perry and her films, a lists of films suggested for classroom viewing, film synopses, and discussion questions oriented toward a range of thematic areas. They also suggest supplementary films and resources to complement the gaps present in Perry's work.
Download Links:
Guide Credits:
Guide Authors: Chloë Brushwood Rose and Axelle Demus
Design: Leslie Supnet, Brett Ramsay
Case Study Lead: Jennifer VanderBurgh
Production: Archive/Counter-Archive
VTAPE CASE STUDY (IN-PROGRESS)
Toronto Living With AIDS (TLWA) was a 1990-91 public access cable TV program that provided information about HIV/AIDS directly to affected communities. A series of 30-minute videos were created by artists, activists, and community organizations responding to the AIDS crisis. They drew on ideas and strategies from video and performance art, but also employed innovative methods of communication to meet their community-oriented goals. TLWA was coordinated by Michael Balser and John Greyson in collaboration with numerous artists and community organizations, and was screened on cable access television. This educational guide includes important contextual information for the series as a whole, including information on key participants, a critical reflection on the social, political and media contexts, a glossary and suggested further reading. It also suggests a list of five films from the series for classroom viewing, offering film synopses and discussion questions focused on this list.
Download Links and Guide Credits (coming soon)
A/CA Network Shared Syllabus Drive Folder
We are excited to announce a new shared folder within the A/CA Google Drive containing a growing number of course syllabi contributed by members of our research network. As a collaborative effort, this folder includes a diverse range of syllabi from a variety of different academic disciplines and includes courses at the undergraduate and graduate levels. We hope this collection will be helpful to anyone interested in teaching or researching topics related to archives, counter-archives, film and media history, and the politics of memory.
To access these syllabi, please go to the shared Google Drive connected to your A/CA account and click on "Syllabi" within the "General Documents/Resources - Private" folder. If you require any assistance accessing the folder, please reach out to our Knowledge Mobilization Officer Andrew Bailey at kmo@counterarchive.ca.
We encourage you to browse the folder and download any materials that might be useful for your own work. However, we also please ask that you do not publically share the files or the folder link, as this is intended to be a private resource for members of the A/CA Network. We also welcome contributions of additional syllabi, so if you have a relevant course outline that you would like to share, please feel free to upload it directly into the folder or send a copy to kmo@counterarchive.ca

We would like to express our gratitude to all the members who have already contributed their syllabi to this project. Your generosity and willingness to share your work with others are deeply appreciated.