Learn more about our various pedagogical resources on archives and counter-archives.
Educational Guides
One of the central goals of Archive/Counter-archive is to increase public engagement with our partner organizations and their collections through an "activation" of archival materials that foregrounds the pressing need to rethink what archives can/might do in the 21st century. In order to achieve this goal, we have developed a series of Educational Guides designed to accompany film and video from A/CA's Case Studies and facilitate their integration into K-12 and postsecondary classrooms through explicit links to the curriculum and suggestions for classroom discussion.
In the same way that A/CA is interested in the disruptive, resistant, and enriching potential of counter-archives, we envision these Educational Guides as a kind of counter-curriculum that mobilize new images, stories, and histories in schools. In this way, we hope they cultivate what might be described as an "educational common" to the extent that they work toward facilitating pedagogical spaces that understand storytelling as a heterogenous, community-driven, and relational practice.1 The educational common must be produced rather than discovered, continually recreated via collaboration and cooperation, and we hope the A/CA Educational Guides can facilitate such collaboration between the partner archives and public schools.
Each of the A/CA Educational Guides is designed for a particular education level and/or curriculum area. However, the guides are also easily adaptable to different grades and subjects, and educators are encouraged to use these guides as a starting point to create their own lesson plans. Each guide contains important contextual information about the materials featured, including information on key participants, essays and reflections, and synopses of selected works for classroom discussion. The guides also include critical discussion questions oriented toward a range of topics in the areas of both form and content to encourage students and teachers to engage critically with A/CA's archival materials by making connections between their context of creation and contemporary issues and experiences.
1See Low, Brushwood Rose, and Salvio, Community-Based Media Pedagogies: Relational Practices of Listening in the Commons. Routledge, 2016.
A/CA Network Shared Syllabus Drive Folder
We are excited to announce a new shared folder within the A/CA Google Drive containing a growing number of course syllabi contributed by members of our research network. As a collaborative effort, this folder includes a diverse range of syllabi from a variety of different academic disciplines and includes courses at the undergraduate and graduate levels. We hope this collection will be helpful to anyone interested in teaching or researching topics related to archives, counter-archives, film and media history, and the politics of memory.
To access these syllabi, please go to the shared Google Drive connected to your A/CA account and click on "Syllabi" within the "General Documents/Resources - Private" folder. If you require any assistance accessing the folder, please reach out to our Knowledge Mobilization Officer Andrew Bailey at kmo@counterarchive.ca.
We encourage you to browse the folder and download any materials that might be useful for your own work. However, we also please ask that you do not publically share the files or the folder link, as this is intended to be a private resource for members of the A/CA Network. We also welcome contributions of additional syllabi, so if you have a relevant course outline that you would like to share, please feel free to upload it directly into the folder or send a copy to kmo@counterarchive.ca

We would like to express our gratitude to all the members who have already contributed their syllabi to this project. Your generosity and willingness to share your work with others are deeply appreciated.
The Annotated Archive of Archival Resources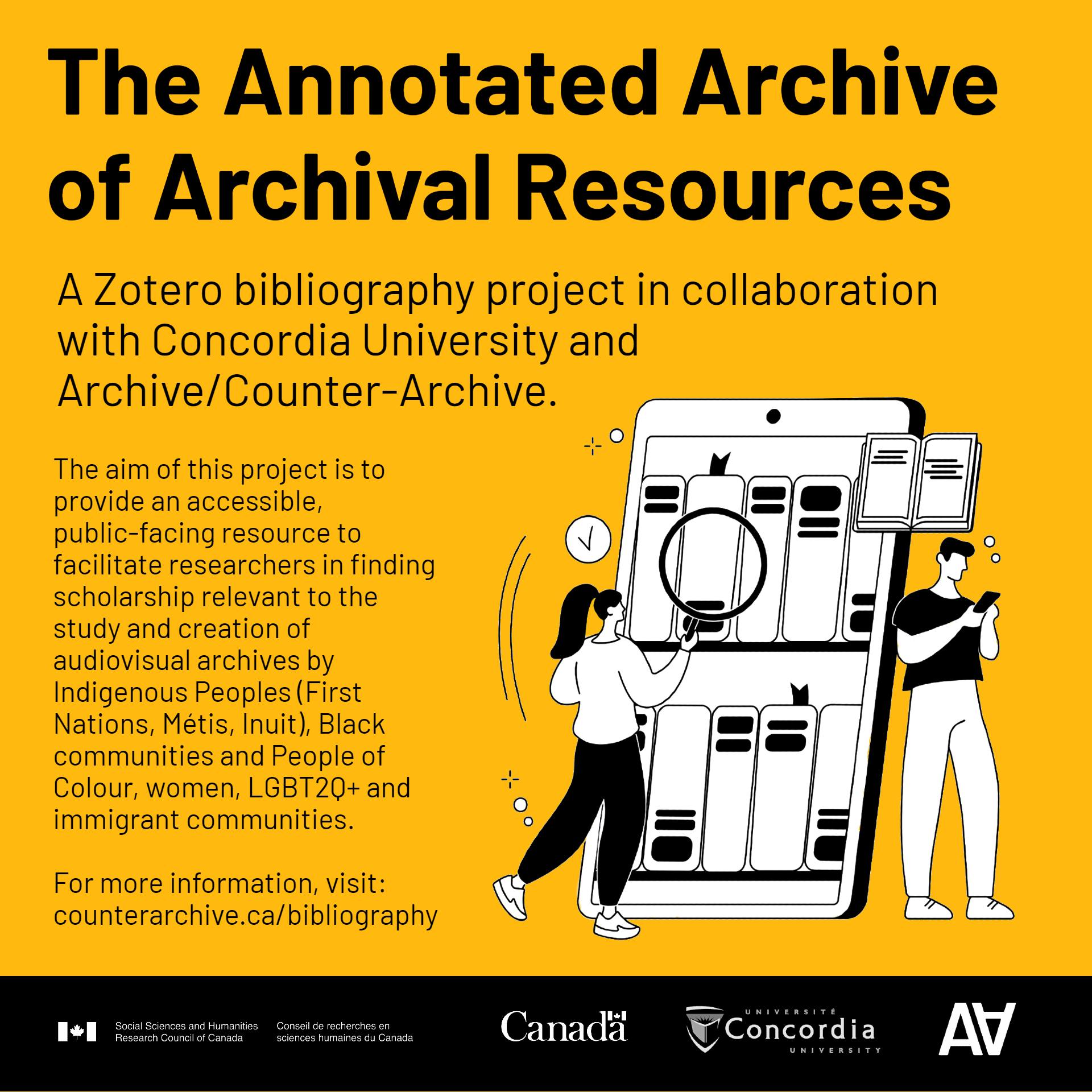 The Annotated Archive of Archival Resources is a new educational resource that is produced and managed by A/CA members Katie Russell and Sam Thomson at Concordia University. This project takes the form of a shared Zotero bibliography with annotated entries submitted from researchers across the Archive/Counter-Archive research network. The aim of this project is to provide an accessible, public-facing resource to facilitate researchers in finding scholarship relevant to the study and creation of audiovisual archives by Indigenous Peoples (First Nations, Métis, Inuit), Black communities and People of Colour, women, LGBT2Q+ and immigrant communities. It offers a categorized and annotated listing of important works from diverse bodies of scholarship related to this central topic. The Annotated Archive of Archival Resources is integrated with Zotero to make use of the platform's searchability and capacity for sharing and formatting bibliographic data. With Zotero's tag system, researchers using the bibliography are able to filter scholarly resources by a wide variety of topics and easily locate annotations that address their specific fields of inquiry.
To access the Annotated Archive of Archival Resources, click the following link:
https://www.zotero.org/groups/4662848/archivecounter-archive_master_list_bibliography/library
Members of A/CA are welcome and encouraged to add their own publications, or any additional relevant books and articles, to the bibliography, adding their own annotations. The project page linked below helpfully includes a list of potential texts to annotate and instructions for how to submit new entries using a system of pre-approved tags and categories.
For more information on how to submit your own publications and/or annotations to the Annotated Archive, click the following link:
https://counterarchive.ca/bibliography