Learn more about our Toronto Living with AIDS Educational Guide for the Vtape Case Study.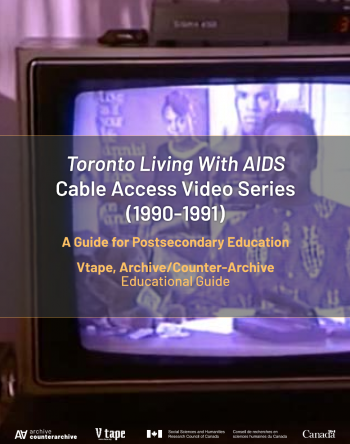 Toronto Living With AIDS (TLWA) was a 1990-91 public access cable TV program that provided information about HIV/AIDS directly to affected communities. A series of 30-minute videos were created by artists, activists, and community organizations responding to the AIDS crisis. They drew on ideas and strategies from video and performance art, but also employed innovative methods of communication to meet their community-oriented goals. TLWA was coordinated by Michael Balser and John Greyson in collaboration with numerous artists and community organizations, and was screened on cable access television.
This educational guide includes important contextual information for the series as a whole, including information on key participants, a critical reflection on the social, political and media contexts, a glossary and suggested further reading. It also suggests a list of five films from the series for classroom viewing, offering film synopses and discussion questions focused on this list.
Guide Download Link:
Video Streaming Link:
*Please note that the films contained in the link above are made available to teachers and instructors for pedagogical purposes only. Please contact Vtape for any use beyond the classroom.*
Guide Credits:
Guide Authors: Chloë Brushwood Rose and Axelle Demus
Design: Leslie Supnet, Brett Ramsay
Case Study Lead: Ryan Conrad
Production: Archive/Counter-Archive