Content
Archive/Counter-Archive, despite all obstacles, has made fantastic strides this year. Several of the case studies are nearing conclusion. Urban Shaman launched their case study with the work of artist in residence Angelina McLeod – a hugely successful exhibition, artist talk and performances. Vtape's Living with Aids case study is also nearing completion with an artist in residence planned and an exhibition. Other case studies should be wrapping up later this year and we have launched several new studies. 

In May/June 2021, A/CA also hosted a Summer Institute convened by Stacy Allison-Cassin (York/University of Toronto)and Ryan Conrad (York, Postdoctoral Fellow) on Locating Media Archives. There were eight sessions held during the Institute. This was a great pedagogical initiative highlighting research on Indigenous Knowledge Organization (Allison-Cassin) and Aids Media Activism (Conrad). Over thirty students attended from across Canada and had access to innovative methodologies and new approaches to archival research through digital cartographies and oral histories. A big thank you goes to Stacy and Ryan for organizing an outstanding institute with terrific guests and archival materials. 

A/CA said goodbye to our long-time Project Manager Aimée Mitchell who took on the well-deserved position of Research Officer in the School of the Arts, Media, Performance & Design at York. We will continue working with Aimée on several initiatives including the Fantastic Finds program presented at our Annual Symposium. We are thrilled to welcome Sara Macdonald to the Project Manager position, who comes to us with years of research and budgetary experience at York. 

Upcoming Events: We are hosting a virtual panel and screening with our two artists in residence at LAC – Jennifer Dysart and Nadine Valcin –  as part of the Regent Park Film Festival. The panel will support a conversation between the artists and the former Libraries and Archives (LAC) curator Caroline Forcier-Holloway. Vanier Scholar Debbie Ebanks Schlums will moderate the panel and the artists' film/installations will be available online during the festival from Nov 25th to Dec 2nd. Stay tuned for more information!

The A/CA December Symposium will be held on Zoom on December 9-10, 2021. I am excited to report that Professor Paula Amad (University of Iowa) will be presenting the keynote on Dec 9th. It is thanks to Paula Amad that A/CA exists and was funded. Not only was she on the expert panel that evaluated our project, but her book Counter Archive: Film, the Everyday, and Albert Kahn's Archives de la Planète was one of the first to think about the concept. The schedule will be forthcoming next month. 

Student Initiatives: The Working Papers Series is back this fall featuring the work of PhD candidates and new scholars, and organized by Emily Barton and Elisa Arca Jarque. The first talk is by Axelle Demus, on Oct 26th: "Out of the Closets, and Into Your Homes!: Televising, Informing, and Connecting Queer Communities on Ontario's Cable Access Channels (1972-2000)". Spread the word and please let us know if you have any students you would like to present at an upcoming session. 

Future Directions: This summer A/CA hosted a policy think-tank on public policy and the future of funding for AV archives in Canada. Mary-Elizabeth Luka (Policy Working Group Lead) will be heading up this initiative. The panel included members of the network and some external policy experts. This work will be continuing for the duration of the A/CA project. A/CA is also beginning the work of a book series and has recently put out a call for chapters for a book on community archives edited by Stacy Allison-Cassin and Antoine Damiens. Please consider submitting a chapter!
 
Janine Marchessault
Principal Investigator, Archive/Counter-Archive
A/CA's 2021 Symposium "Living Archives"
We are thrilled to announce that our annual symposium will take place on Dec. 9th and Dec. 10th, 2021 starting at 11:00AM EST each day on Zoom.
The theme of this year's event is "Living Archives." Archives are generally associated with things that are dead and static but digital media are impacting the very meaning and location of archives along with the production of more dynamic and diverse histories. Since the archival turn in the early 1990s (generally attributed to the rise of the internet and the expansion of local area networks globally), artists and digital humanists, often working in collaboration with archivists, have been at the forefront of developing new ways to animate and create archives both public and private. Artists are using film and media archives to disrupt traditional forms of history, collection, and national narrative. We look at new approaches to celluloid, video, and digital media that are process oriented, participatory, and performative.  Archives used in this way foster new living ecologies of entanglement that are generating more complex epistemological models of memory and place.

The December 2021 Symposium will tackle these issues through various panels and internal sessions. We will also host a keynote presentation by Paula Amad (University of Iowa). Stay tuned for the full schedule and links to register! 
Working Papers Series
Axelle Demus, "Out of the Closets, and Into Your Homes! Televising, Informing, and Connecting Queer Communities on Ontario's Cable Access Channels (1972-2000)"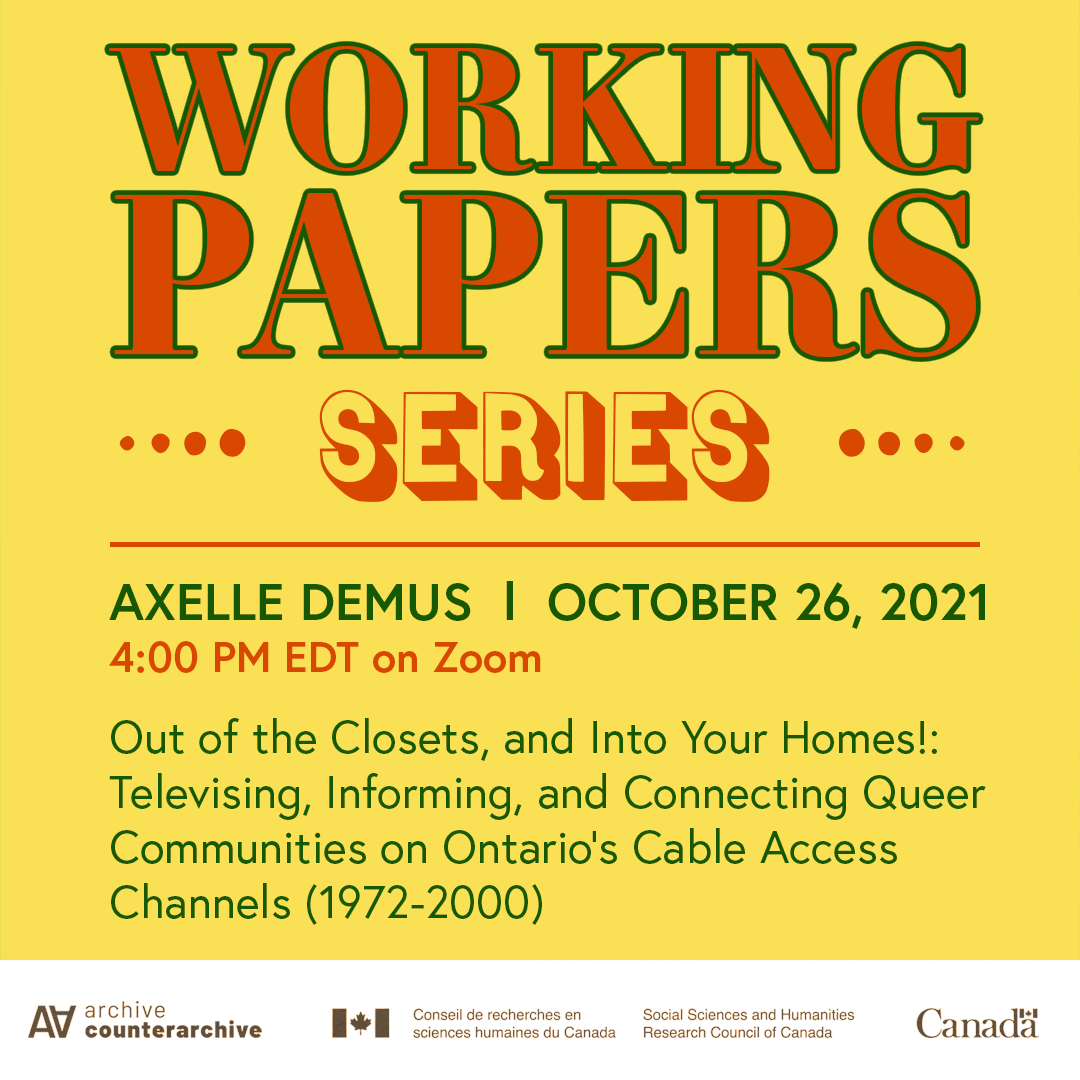 Join us for another online iteration of the Archive/Counter-Archive Working Papers Series, which brings together PhD students from different universities to hear about exciting doctoral research in the area of archival studies. Our first speaker of this term is Axelle Demus, who is a PhD Candidate in the joint Communication and Culture program at York and Ryerson University. Axelle's talk will be followed by a Q&A with the audience, moderated by our student organizers, Emily Barton and Elisa Arca Jarque.

Oct. 26th, 2021, 4:00PM EDT on Zoom

Please click here to register! (FREE). A Zoom link will be emailed to all who register on Monday, Oct. 25th. Click for more information.
Moving Homeward
Pleasure Dome
Wed., Nov. 10th to 17th, 2021
Live Q&A Nov. 17th at 7 pm EST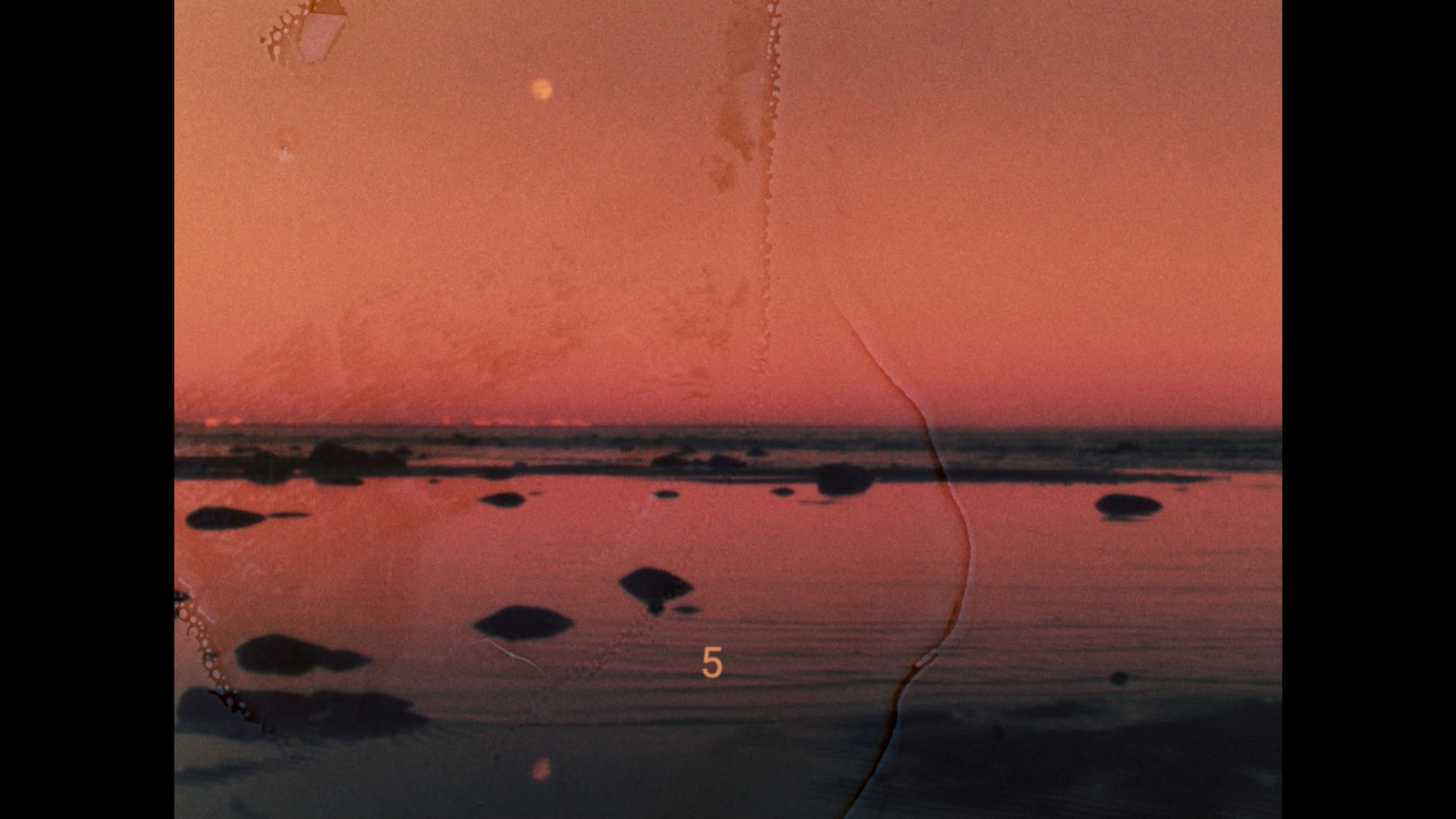 Image credit: Via Karelia, Elian Mikkola (Finland, 2021).
Archive/Counter-Archive is thrilled to co-present with Pleasure Dome, Moving Homeward an online screening available as a PWYC rental at pdome.org from Nov. 10th to 17th, 2021. 

Moving Homeward explores the use of the personal and familial archive as a tool for auto-ethnographic investigation and speculative reconstruction of home, family, and affections. In the context of migration, displacement, and loss, how can artists research, deconstruct, reconstruct and expand archives to work through grief, uprootedness, assimilation, and intergenerational trauma? Join us for a closing Q&A Nov. 17th at 7 pm EST, zoom link details at pdome.org. This program is curated by PD Directors Sylvia Nowak and Ana Luisa Bernardez.

Pleasure Dome is an artist-run presentation organization and publisher dedicated to experimental media. Our organization is committed to presenting artists who expand, fracture, and scrutinize the traditional cinematic spectacle, including those who use moving image technologies that are digital, interactive, or performative.

Tickets and more information
Blind Rabbit
Reel Asian
Nov. 10th to Nov. 19th, 2021
Free screening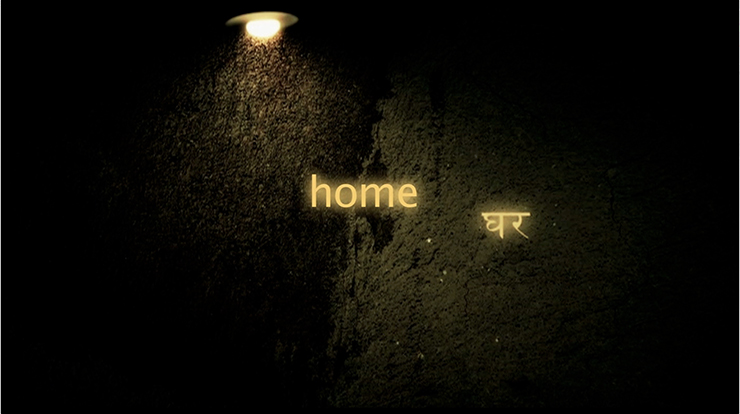 Image: Still, Blind Rabbi (Pallavi 2020)
We're excited to partner with Reel Asian for the film THE BLIND RABBIT.

In THE BLIND RABBIT, a magical tiger stalks like a phantom. Because no one ever catches more than a glimpse, it is spoken of with the highest esteem. This allegorical fiction starts director Pallavi Paul's attempt to describe systematic police violence in Delhi on the basis of individual events suppressed from official history. She does so in an associative edit of texts, images and sounds, making effective use of the scattered fragments of documentation still extant.
 
The Toronto Reel Asian International Film Festival® is a unique showcase of contemporary Asian cinema and work from the Asian diaspora. Works include films and videos by Asian-identifying artists in Canada, the U.S., Asia and all over the world. As Canada's largest Asian film festival, Reel Asian® provides a public forum for Asian media artists and their work, and fuels the growing appreciation for Asian cinema in Canada.

(Free) tickets and more information

Apply our promo code "Twenty5th" to receive a 15% discount on other screenings!