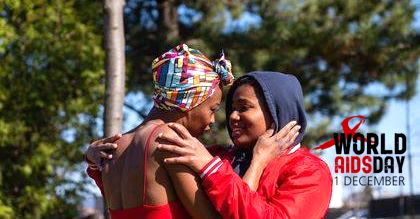 Francais à suivre...

Mediaqueer, in partnership with VUCAVU and Women's Health in Women's Hands CHC is pleased to present, A Filmmaker in Focus: Alison Duke.
On December 1st, two of Alison Duke's films exploring the often-silenced subject of women living with HIV/AIDS -- Promise Me, and Positive Women: Exploring Injustices -- in addition to a panel discussion about Promise Me will be available on VUCAVU to stream for free. Although these programs provide only a glimpse into Duke's extensive filmography, within the context of World AIDS Day on December 1st we wanted to take this opportunity to recognize the work done in the fight against HIV, to show support for people living with HIV, and to commemorate those who have passed away from AIDS-related illness. These three programs celebrate the innovative and powerful work by Alison Duke, a dynamic storyteller who works to build awareness around the extreme social injustice and horrific treatment of Black people living with HIV/AIDS as they try to navigate their health care needs in Canada.

More information about the event and the films featured can be found on: https://vucavu.com/en/a-filmmaker-in-focus-alison-duke

Mediaqueer would like to thank the following sponsors for their support of this programming:

VUCAVU
Women's Health in Women's Hands CHC
Archive/Counter-Archive
RéQEF (Réseau Québécois en études féministes)
Moving Image Research Laboratory
IGSF McGill
HIV Legal Network
_________________________________________

Mediaqueer, en partenariat avec VUCAVU, est fier de vous présenter : Gros plan sur la cinéaste Alison Duke. Le 1er décembre, deux films d'Alison Duke explorant le sujet trop souvent occulté des femmes qui vivent avec le VIH/sida, Promise Me et Femmes et séropositives : Dénonçons l'injustice, ainsi qu'une table ronde autour de Promise Me seront diffusés en continu gratuitement sur VUCAVU. Bien que cette programmation n'offre qu'un aperçu de la vaste filmographie de Duke, nous profitons de la Journée mondiale de lutte contre le sida afin d'apporter notre soutien aux personnes vivant avec le VIH/sida et de commémorer celles qui en sont décédées. Cette programmation célèbre le travail innovateur et percutant d'une narratrice dynamique qui cherche à sensibiliser les gens aux injustices sociales extrêmes et au traitement horrible dont sont victimes les personnes noires aux prises avec le VIH/sida dans leurs démarches pour combler leurs besoins en matière de soins de santé au Canada.

Vous trouverez plus d'information sur l'évènement et les films présentés sur https://vucavu.com/en/a-filmmaker-in-focus-alison-duke

Mediaqueer aimerait remercier ses partenaires pour le soutien apporté à cette programmation :

Archive/Counter-Archive
RéQEF (Réseau québécois en études féministes)
Moving Image Research Laboratory
IGSF McGill
HIV Legal Network