The Mark S. Bonham Centre for Sexual Diversity Studies
15 King's College Circle, Room 251
Toronto ON M5S3H7
Canada
Thursday June 20, 2019
2:00 - 5:30 PM
The Mark S. Bonham Centre for Sexual Diversity Studies, Room 251
15 King's College Circle, Toronto
(French version follows)

Amphitheater UC140. Free event / Entrée libre. Reservation recommended (eventbrite link below) / Réservation recommandée (lien eventbrite ci-dessous). Conference in English / Conférence en anglais.

On the occasion of Pride Month and the celebration of the anniversary of the Stonewall riots, with the support of EUNIC Global, France Canada Culture, the University of Toronto (Mark S. Bonham Center for Sexual Diversity Studies and the Munk School of Global Affairs) and the ArQuives are pleased to present a conference about the crucial issue of LGBTQ+ archives and the place of minorities in those archives.

Speakers:

- Antoine Idier is a French sociologist, historian and professor at the School of Fine Arts of Paris Cergy. He will be presenting his latest book: "Archives des mouvements LGBT+, Une histoire de luttes de 1890 à nos jours". In this book, Antoine Idier insists on the importance of the archive for the LGBTQ + community: "The question is crucial not only because the erasure of history is simply erasure, but also because history is constitutive of the construction of an identity and a subjectivity ":" to appropriate archives is to refuse to let to others the epistemological privilege to write history; it means to stand against dispossession."

Antoine Idier's presentation will be followed by a response by Raegan Swanson, Executive Director for The ArQuives, putting this issue in perspective within the Canadian context, and a roundtable on the role of archives in the LGBTQ+ community, in regard to the empowerment and struggles of the community. This panel will also be the occasion to question the place of the minorities inside the community, and to see how the borderline between art and archives can be overstepped.

- Raegan Swanson, serves as the Executive Director for The ArQuives, Canada's LGBTQ2+ Archive. She is currently working on her PhD focusing on the role of community archives inRaegan SwansonAboriginal and Inuit communities in Quebec. She is member of the Steering Committee on Canada's Archives Taskforce to respond to the "Calls to Action" Report fromthe Truth and Reconciliation Commission.

- Dr. Rebecka Sheffield is a Senior Policy Advisor for the Archives of Ontario and a member of the Recordkeeping Strategies Unit. She holds a graduate degree in information studies with a specialization in archives and records management. She completed a PhD at the University of Toronto's iSchool in collaboration with the Mark S. Bonham Centre for Sexual Diversity Studies.

- Courtnay McFarlane is a Toronto-based community health promoter, visual artist and poet whose work has been published in several African-Canadian and Queer anthologies. HeCourtnay McFarlane. Credits: Ajamu Ikwe-Tyehimbarecently curated Legacies in Motion: Black Queer Toronto Archival Project, that unearthed and celebrated the political and cultural activism of Black LGBTQ communities in Toronto in the 1980's and 1990's.

- Phillip Pike is an emerging documentary filmmaker. He is a graduate of the Documentary Filmmaking Institute (School of Creative Arts & Animation, Seneca College, Toronto). Our Dance of Revolution, his third film and second feature, tells the story of Toronto's black queer community, and all the adversity it has faced.

Moderator:

Dr. Aimée Mitchell, Research Associate and Project Manager of Archive/Counter-Archive, a SSHRC Partnership Grant hosted by York University. She holds a PhD from the York-Ryerson University Communication and Culture Program. Her dissertation explored the politics and practices of audiovisual archives in Canada, and more specifically, the importance of DIY archiving practices in its various forms. Aimée is the former Distribution and Collections Manager at the Canadian Filmmakers and a former programming associate for Toronto Queer Film Festival.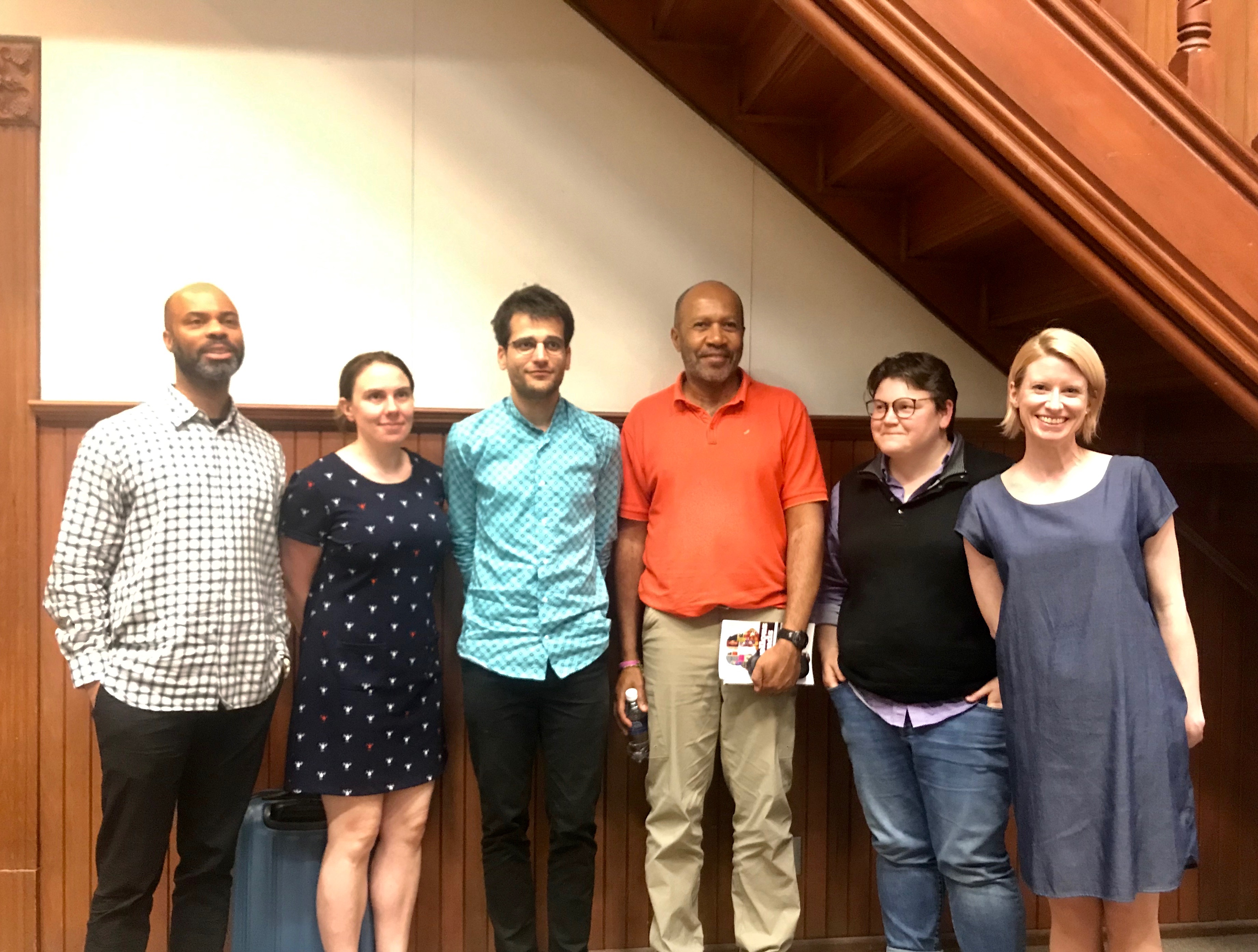 Événement organisé dans le cadre du Pride Month et de la commémoration des émeutes de Stonewall.

Avec le soutien de EUNIC Global, France Canada Culture, University of Toronto et The ArQuives organisent une conférence autour de la question des archives LGBTQ+ et de la place des minorités au sein de ces archives.

Intervenants :

- Antoine Idier, sociologue, historien et professeur à l' École nationale supérieure d'arts de Paris-Cergy présentera son nouveau livre : Archives des mouvements LGBT+, Une histoire de luttes de 1890 à nos jours. Antoine Idier insiste sur l'enjeu de l'archive au sein de la communauté LGBTQ+ : « La question est cruciale non seulement parce que l'effacement de l'histoire est l'effacement tout court, mais aussi parce que l'histoire est constitutive de la construction d'une identité et d'une subjectivité » : « se saisir des archives, c'est refuser de laisser aux autres le privilège épistémologique d'écrire l'histoire, c'est se dresser contre une dépossession »

Sa présentation sera suivie d'une mise en perspective de la question des archives LGBTQ+ dans le contexte canadien par Raegan Swanson, directrice de The ArQuives, et d'une table ronde autour de la question des minorités au sein des archives LGBTQ+ . Le rôle des archives dans la constitution d'une identité commune sera discuté, tout comme la question de la place laissée aux minorités parmi ces archives. La question de la frontière entre art et archives sera également interrogée.

- Raegan Swanson, est la directrice exécutive de The ArQuives, les archives LGBTQ2 + du Canada. Elle prépare actuellement son doctorat sur le rôle des archives communautaires dans les communautés autochtones et inuites du Québec. Elle est membre du groupe de travail du Comité directeur des Archives du Canada, chargé de répondre au rapport «Appels à l'action» de la Commission de vérité et réconciliation.

- Dr. Rebecka Sheffield est conseillère principale en politiques pour les Archives of Ontario et membre de l'unité des stratégies de conservation des documents. Elle est titulaire d'un diplôme d'études supérieures en information avec une spécialisation en archivage et en gestion de documents. Elle a obtenu son doctorat à l'école iSchool de l'Université de Toronto en collaboration avec le Centre d'études sur la diversité sexuelle Mark S. Bonham.

- Courtnay McFarlane est un promoteur de la santé communautaire, artiste plasticien et poète établi à Toronto. Ses travaux ont été publiés dans plusieurs anthologies afro-canadiennes et LGBTQ+. Il a récemment dirigé le projet d'archives @Legacies in Motion : Black Queer Toronto, qui a mis au jour et célébré l'activisme politique et culturel des communautés LGBTQ+ afro-canadiennes à Toronto dans les années 1980 et 1990.

- Phillip Pike est un cinéaste émergent. Il est diplômé du Documentary Filmmaking Institute (École d'arts créatifs et d'animation, Seneca College, Toronto). Our Dance of Revolution, son troisième film et son deuxième long métrage, raconte l'histoire de la communauté LGBTQ+ afro-canadienne de Toronto et de toutes les luttes qu'elle a dû mener.

Modératrice :

- Dr. Aimée Mitchell, associée de recherche et gestionnaire de projet pour Archive/Counter-Archive , un programme de recherche du Conseil de recherches en sciences humaines du Canada, CRSH piloté par York University. Elle est titulaire d'un doctorat du double programme en communication et culture des universités de York et de Ryerson. Sa thèse portait sur les politiques et les pratiques des archives audiovisuelles au Canada, et plus particulièrement sur l'importance des pratiques d'archivage sous ses diverses formes. Aimée est l'ancienne directrice de la distribution et des collections chez Canadian Filmmakers and ancienne programmatrice du Toronto Queer Film Festival.