350 King St. West, 4th Floor
Toronto ON M5V 3X5
Canada
Thursday, July 11, 2019
8:00 PM
4th Floor, Film Reference Library, TIFF Bell Lightbox, Toronto
Facebook Event

Join us for the book launch and reception of Process Cinema: Handmade Film in the Digital Age, co-edited by Scott MacKenzie (Queen's University) and Janine Marchessault (A/CA Project Director, York University), and featuring essays by numerous A/CA collaborators and partners.

"Handmade films stretch back to cinema's beginnings, yet until now their rich history has been neglected. Process Cinema is the first book to trace the development of handmade and hand-processed film in its historical and contemporary contexts, and from a global perspective. Mapping the genealogy of handmade film, and uncovering confluences, influences, and interstices between various international movements, sites, and practices, Process Cinema positions the resurgence of handmade and process cinema as a counter-practice to the rise of digital filmmaking.
This volume brings together a range of renowned academics and artists to examine contemporary artisanal films, DIY labs, and filmmakers typically left out of the avant-garde canon, addressing the convergence between the analog and the digital in contemporary process cinema. Contributors investigate the history of process cinema - unscripted, improvisatory manipulation of the physicality of film - with chapters on pioneering filmmakers such as Len Lye and Marie Menken, while others discuss an international array of collectives devoted to processing films in artist-run labs from South Korea to Finland, Australia to Austria, and Greenland to Morocco, along with historical and contemporary practices in Canada and the United States.
Addressing the turn to a new, sustainable creative ecology that is central to handmade films in the twenty-first century, and that defines today's reinvigorated film cultures, Process Cinema features some of the most beautiful handcrafted films and the most forward-thinking filmmakers within a global context."
--McGill-Queen's Univ. Press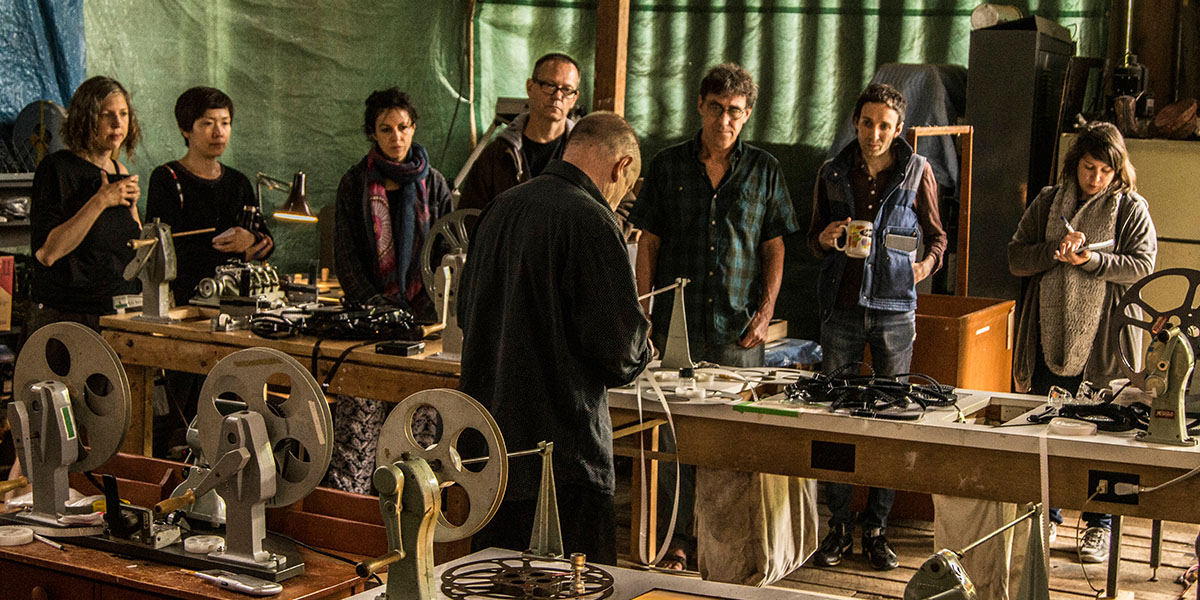 This event is in conjunction with a free exhibition and TIFF Wavelengths Programme "Film Farm: 25 Years of the Independent Imaging Retreat."
 
Details: tiff.net/events/film-farm-25-years-of-the-independent-imaging-retreat

EXHIBITION
Curated by A/CA Community Partner Michelle Lovegrove Thomson
June 25 - July 19 | Tues to Sat | 12-5 PM | FREE
Film Reference Library, TIFF Bell Lightbox, 4th Floor

Featuring films, video diaries, and a new work from founder Phil Hoffman, the exhibition celebrates and documents the impact of the Film Farm on artisanal filmmaking in Canada. The exhibition highlights a different programme of films from those included in the cinema screenings.

Featured works include:
50 films handmade at the film farm
video diaries shot during the retreat
a 35mm projection of a photogram film
Hoffman's new film VULTURE, hand-processed using the juices of flowers and a salt bath to fix the image
This exhibition accompanies a free Wavelengths programme curated by Chris Kennedy:

Programme 1: We Are Going Home
Wednesday July 10, 9 PM | FREE - click to reserve your ticket on TIFF.net
Films by: Cecilia Araneda, Lyndsay Bloom, Jaene Castrillon, Jonathan Culp, John Greyson, Carolynne Hew, Helen Hill, Deirdre Logue, Daniel McIntyre, Cara Morton, John Porter, Jennifer Reeves, Dawn Wilkinson, Christina Zeidler.

Programme 2: Crashing Skies
Thursday July 11, 6:30 PM | FREE - click to reserve your ticket on TIFF.net
Introduced by Kim Knowles, Aberystwyth University, Wales, UK
Films by: Scott Miller Berry, Maia Cybelle Carpenter, Christopher Chong, Amanda Dawn Christie, Marcia Connolly & Angela Joosse, Pouyan Jafarizadeh Dezfoulian, David Gatten, James Gillespie, Srinivas Krishna, Penny McCann, Jeremy Moss, Heidi Phillips, Sami van Ingen.

Followed by a reception and book launch for Process Cinema: Handmade Film in the Digital Age.