Content
Happy Spring 2022!
Archive/Counter-Archive is entering year five! Three more years to go with year seven being a culmination and focus on final exhibitions and publications. Several case studies have wrapped up (Vtape, Urban Shaman researchers are working on culminating essays) and numerous others are on track to complete this year (CFMDC, Margaret Perry/Nova Scotia, Arnait Video Production, Winnipeg Film Group), while others are unfolding (VIVO, GIV). Numerous artists in residence coming in. GIV, just beginning their journey, promises to be an exciting study connecting to various other organizations in the network with exhibitions and performances around the history of feminist video art.
All of the case studies will be published in a media rich book Archive/Counter-Archives: Case Studies (working title) that will be included in the book series Counter Archives: Media and Material Practices edited by Stacy Allison Cassin, Monika Kin Gagnon and Janine Marchessault with Concordia University Press (CUP). The series is proposing numerous books tied to the case studies and network initiatives (stay tuned for a press release that the editors are working on with CUP). We are excited that the press is committed to Open Access and that we will be able to experiment with the media rich platform Manifold. Tied to this, please visit and contribute to the new publications section on our website which lists recent publications from the A/CA Network as well as the recordings of most of our talks.
The student committee was active this year with a cross network student mixer that was well attended on zoom. The A/CA Working Papers series was hugely successful with presentations from PhD candidates Linda Grussani (Queen's), Michael Marlatt (York) and a presentation from Marcus Jack – MITACS Globalink Researcher from The Glasgow School of Art. Marcus also presented several online screenings from his research into a Queer McLaren as well as Video Art from Glasgow. Thanks to Emily Barton (PhD York) and Elisa Arca Jarque (PhD York) for organising and moderating the series. We are always looking for students to present their graduate research so if you are interested or want to suggest someone for next year please be in touch.
A new workshop series was introduced this winter, Archival Atelier – a collaboration between A/CA and the Toronto Metropolitan University's Film and Photography Preservation and Collections Management Program was introduced that brought archivists and artists together to consider the practices and ethics of archival preservation, media materiality and digitization workflows. Special thanks to Paul Moore (TMU) and Jean-Pierre Marchant (Operations CineMobilia). Jean-Pierre Marchant also organized a graduate student Summer workshop around The Power of Small Stories. An online screening of the works produced in the course is being planned for June.
This summer we are also looking forward to numerous Network presentations at the Film and Media Studies Association of Canada as well as at the Orphan Film Symposium dedicated this year to Counter Archives. The Symposium is being held at Concordia University this June — special thanks to Haidee Wasson (Concordia), Charles Acland (Concordia) and Debbie Ebanks Schlums (York) for working with colleagues from NYU to organize this exciting event. Many Network members will be presenting their creative and scholarly research including several artists in residence who will be screening work on Opening Night of the conference.
We look forward to several events next fall. The Indigenous Methodologies committee has been helping to organize and steer Traces & Care: The Indigenous Archives Gathering, which will take place as part of ImagineNATIVE film and media Festival next October, 2022. Special shout out to Jennifer Leblanc (PhD candidate Queen's) who has been working tirelessly, building on Linda Grussani's excellent work, to oversee all the logistics. Stay tuned for the schedule which will be released at the end of the Summer.
Finally, we are super excited that the Education Working Group is overseeing the design and production of the first Education Guides for several of the case studies. This initiative is being led by "counter curriculum" theorist Chloë Brushwood-Rose (York) and Axelle Demus (PhD candidate York) who have designed both secondary and post-secondary guide books. The wonderful designer Leslie Supnet has constructed the template for the books. These should be out next fall.
A few staffing transitions this summer: we are saying goodbye to Project Manager Sara Macdonald who has taken up a leadership role with a foundation aligned with her research. We wish Sara the best of luck in her new position. We are excited to welcome Antoine Damiens to the PM position. Antoine has been an active team member this past year as a MITACS post-doctoral researcher, helping the project to develop its public facing activities, and specifically its publications. We are looking forward to working with Antoine.
I wish you all a happy, restful and productive (i.e., fun) Summer after the long dark Winter.
Janine Marchessault
Principal Investigator, Archive/Counter-Archive
Goodbye Sara Macdonald, Project Manager
It is with mixed emotions that we announce that Archive/Counter-Archive's Project Manager Sara Macdonald will be leaving for a new adventure working for a foundation — her new role will align with her PhD research. We wish her all the best in this new and important endeavour.
A message from Sara:
Dear Archive/Counter-Archive Network, 
It has been a pleasure to work with everyone on this project for the past year, first as the Financial Administrator and then as the Project Manager. 
I want to sincerely thank Janine Marchessault and Michael Zryd for giving me the opportunity to manage and guide this project. I am grateful for all your support, patience and for being such generous leaders. I also want to thank Antoine Damiens, Emily Collins and Jean-Pierre Marchant for all your hard work with organizing A/CA events and other activities. To Aimée Mitchell, thank you for sharing your insights and helping me troubleshoot complex issues. To the members of the network, I have enjoyed meeting and working with you and have learned a lot from our conversations. 
I wish you all the best for the final few years of the project. I am excited to see the many planned activities come to fruition and will follow A/CA's achievements with interest. 
Best wishes, 
Sara
A/CA welcomes Antoine Damiens, our new Project Manager
We are delighted to announce that Antoine Damiens will be stepping in as the new Project Manager. 
A message from Antoine: 
Dear Archive/Counter-Archive Network,
I am beyond honoured to step in as the new Project Manager. I am particularly looking forward to meeting everyone and to continuing the work started by Aimée Mitchell and Sara Macdonald. I want to thank Janine Marchessault and Mike Zryd for this opportunity, and to congratulate Sara Macdonald for her new position: it has been a pleasure working with and learning from Sara. Sara's work on the project was truly exemplary. 
Please feel free to contact me (adamiens@yorku.ca) if you have any questions. I look forward to working with all of you very soon!
Antoine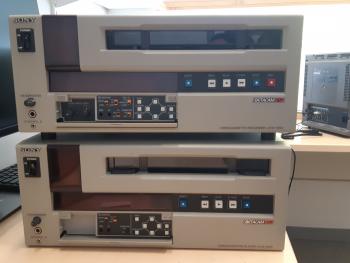 Learn about Cinemobilia, our new mobile infrastructure lab!
After months of delays, Cinemobilia finally received its funding from the Canadian Foundation for Innovation and is now in business!
Taking its name from the multitude of historical media literacy projects that sought to bring film and media to underserved communities — "cines móviles" of Cuba, cinema trains in Russia, and "Cinema Mobile" projects by the Canadian Film Board, Cinemobilia is a mobile infrastructure lab tailored to the unique archival and presentation needs of marginalized communities in Canada. Our goal is to facilitate archiving of audio-visual media, documentation of intangible heritage, presentation of materials in community contexts, and preservation of content, in partnership with established archives and cultural institutions to create participatory forms of archiving, remediation, and presentation. We are currently working with Procurement Services at York University to acquire a range of equipment, including a film scanner and a variety of digital media decks which we are excited about! We're also looking forward to working with the ArQuives: Canada's LGBTQ+ archives, to provide infrastructure support for Noam Gonick's NFB project "Parade," a film based on unseen footage from the Arquives in a variety of formats including U-Matic, Betamax, Super8, 16mm film and more. We'll have lots more news as we get up and running with our equipment, so stay tuned.
Upcoming Events
Save the date! Indigenous Archives Gathering
October 17-18, 2022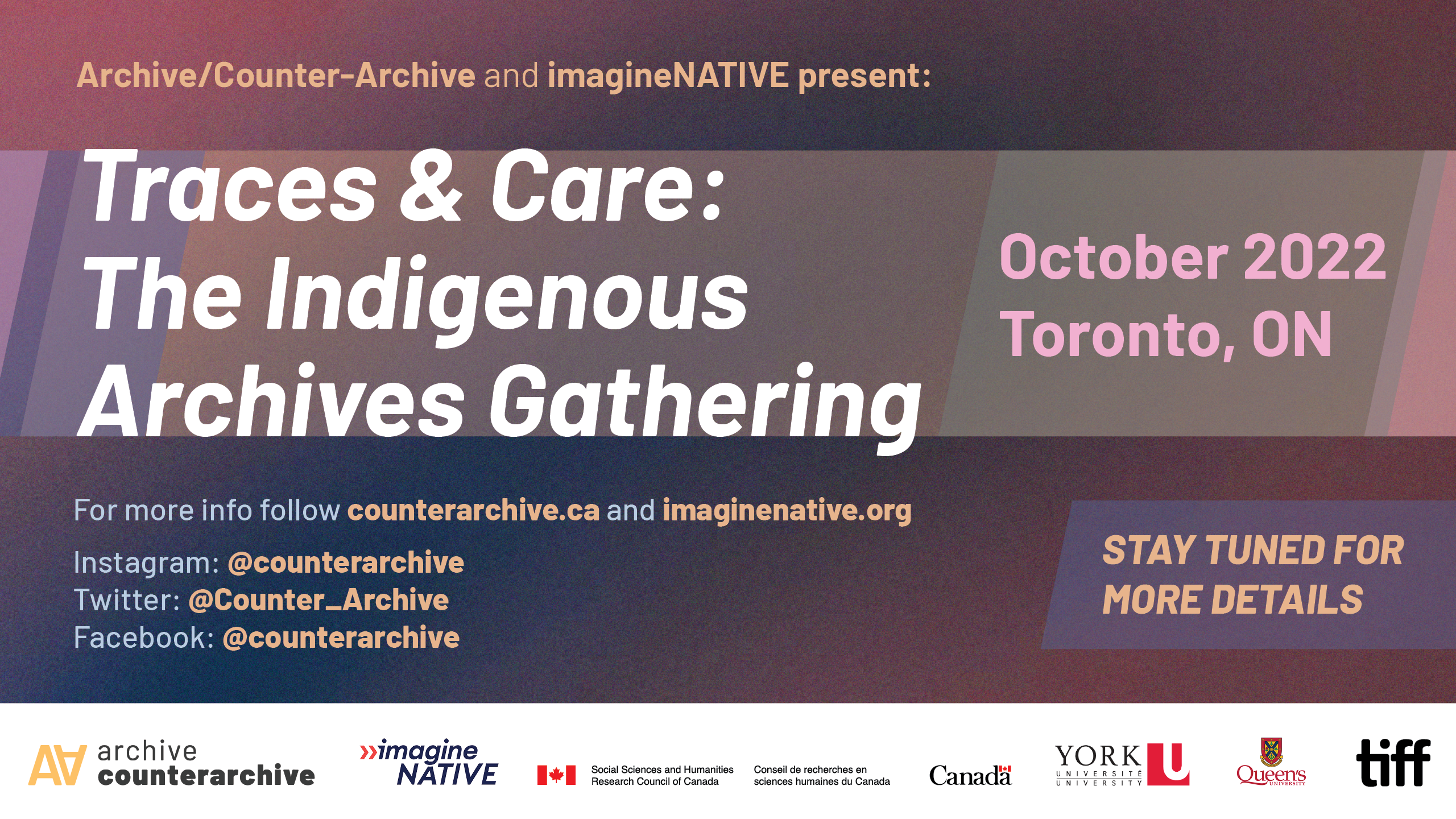 Working Papers Series
Archive/Counter-Archive's Working Papers Series (WPS) is a collegial forum where graduate students are given an opportunity to present their thesis or dissertation research in-development to colleagues and faculty. The Series is an excellent forum to receive input/feedback about research in progress. The 2021-2022 Working Papers Series is organized and curated by A/CA Student Researchers Elisa Arca Jarque and Emily Barton. Thank you for all your work this year!
This year, five scholars presented as part of the WPS: Axelle Demus, Kate J. Russell, Linda Grussani, Marcus Jack, and Michael Marlatt. Thank you for sharing your research with us!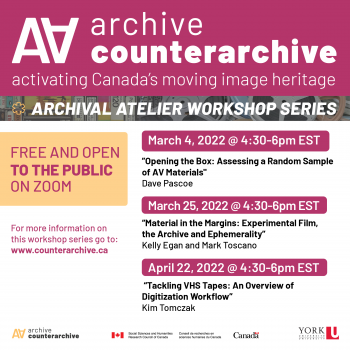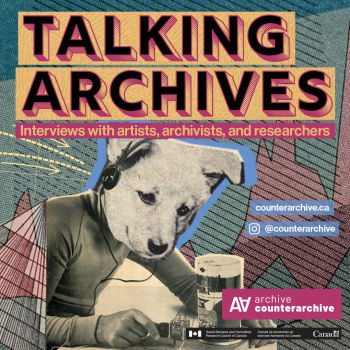 New Talking Archives video with Pamila Matharu
Watch the sixth episode of our online interview series, Talking Archives, which features conversations with artists, archivists, and researchers who are part of the A/CA network.
This episode features A/CA Artist-in-residence Pamila Matharu, who discusses her artistic/activist practice and her research at the Archives of Ontario with A/CA's Principal Investigator, Janine Marchessault. Specifically, Matharu delves into the ways that Toronto-based arts organizations participated in creating an intergenerational diasporic culture. Her intervention discusses the need to adopt new, personal archival methodologies that renders visible community networks of friends and activists.
Older episodes can be accessed on our Video Recordings webpage.