Content
Artists, archivists, and researchers engage with analog and legacy digital materials, many of which are at-risk. Explore different ways of assessing these media at Archival Atelier, A/CA's new series of workshops devoted to varied media types and their preservation.
The Archival Atelier workshop series is organized by Jean-Pierre (JP) Marchant. Jean-Pierre Marchant has over 10 years of experience as a filmmaker, editor, and colorist. His films, which span multiple genres, are concerned with things that grow in the 'spaces in between': between capitalist promises and suburban disappointments, urban landscapes and their hinterlands, personalities in conflict, and diasporic lives and the memories left behind. His most recent work uses found and archival footage, his parents' home movies, narration, and remediation to tell stories that complicate conventional narratives of trauma, Latin American migration, and exile. He is a graduate of the York University MFA program.
The first Archival Atelier was held on March 4, 2022 on Zoom. 
"Opening the Box: Assessing a Random Sample of AV Materials"
Instructor: Dave Pascoe (Media Commons, University of Toronto)
What can artists and researchers do with valuable and at-risk late twentieth century media? The wide variety of legacy materials -- from VHS tapes to U-Matic and Hi8 -- can be confusing. How can you identify and assess the condition of different media types? When should you take a "DIY" approach to preservation, and when is it time to call in the experts? In this workshop Dave Pascoe from the UofT Media Commons will explain legacy digital formats, while providing strategies for assessing and preserving them.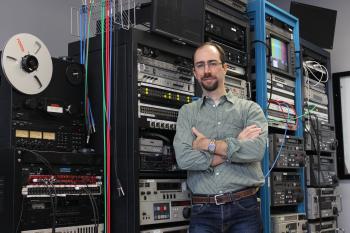 Building on a unique skillset in the media production industry, Dave Pascoe began working in the archive sector after recognizing the increased need to preserve historical audiovisual materials.  Dave has provided technical insight and expertise to clients from provincial archives and museums to small NGO's.  Recent projects have included work on oral history collections of Indigenous groups, documentary footage preparation for various artists, and historical political lectures.  Currently, Dave works in-house at the University of Toronto's Media Commons Archives department.