Content
Spring is finally here and COVID-19 continues to be with us. Archive/Counter-Archive (A/CA) has managed nevertheless to continue onward and make good progress.

The Annual Symposium in December 2020 was a wonderful success with a keynote by Deanna Bowen about her recent exhibitions, The God of Gods: Berlin, Berlin and Black Drones in the Hive, and her research methodologies. We will be posting the recording of the talk on the A/CA website very soon.
Building on Deanna Bowen's keynote, we will also be hosting a talk by curator Crystal Mowry (see below for more information).
We are also excited to announce A/CA Summer School with an international group of students and numerous public lectures organized by Stacy Allison-Cassin and Ryan Conrad in May and June. Look out for an upcoming Talking Archives episode with Pamila Matharu, our Artist in Residence at the Archives of Ontario, discussing her project about the Yonge Street riots, and the emergence of Fresh Arts. 
We are delighted to report that the Indigenous Archives Gathering, a collaboration between A/CA and the imagineNATIVE Film and Media Festival that is being overseen by Linda Grussani (PhD candidate Queen's University) has received a SSHRC Connections grant. I am also excited to report that Cinemobilia: Mobile Archiving and Presentation Project—an infrastructure project to support A/CA research received a Canada Foundation for Innovation Grant. We are hoping to begin this project later in the Summer. 

Janine Marchessault
Principal Investigator, Archive/Counter-Archive
Crystal Mowry: Public Talk: Commit to Memory Wednesday April 14th 2PM-3PM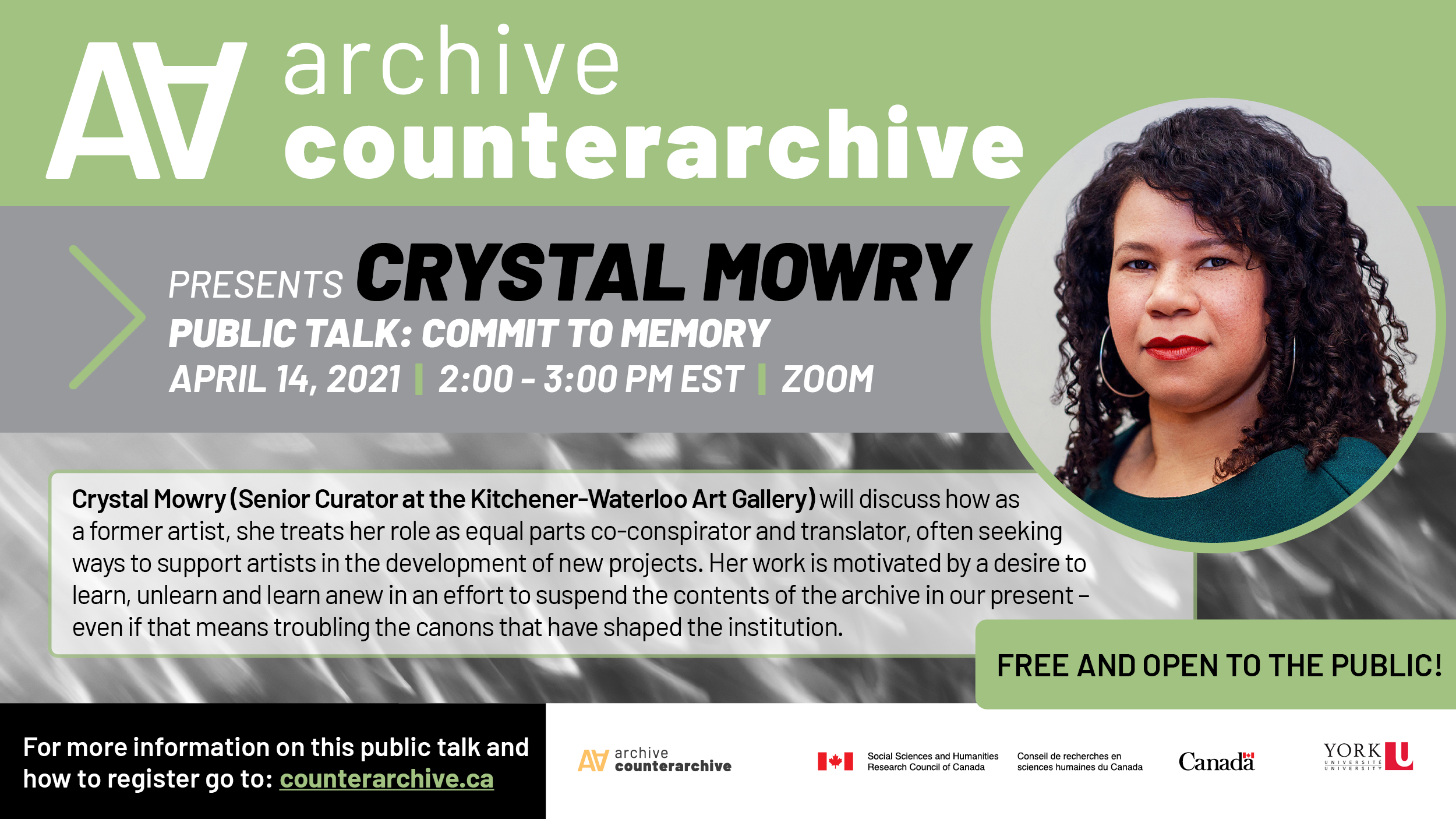 Crystal Mowry (Senior Curator at the Kitchener-Waterloo Art Gallery) will discuss how as a former artist, she treats her role as equal parts co-conspirator and translator, often seeking ways to support artists in the development of new projects. Her work is motivated by a desire to learn, unlearn and learn anew in an effort to suspend the contents of the archive in our present - even if that means troubling the canons that have shaped the institution.
In Commit to Memory, Mowry will reflect on the conception and realization of several recent projects, including Black Drones in the Hive, a solo exhibition by Deanna Bowen that is on view at the Kitchener-Waterloo Art Gallery until May 23, 2021.
Register here.
 
Summer School 2021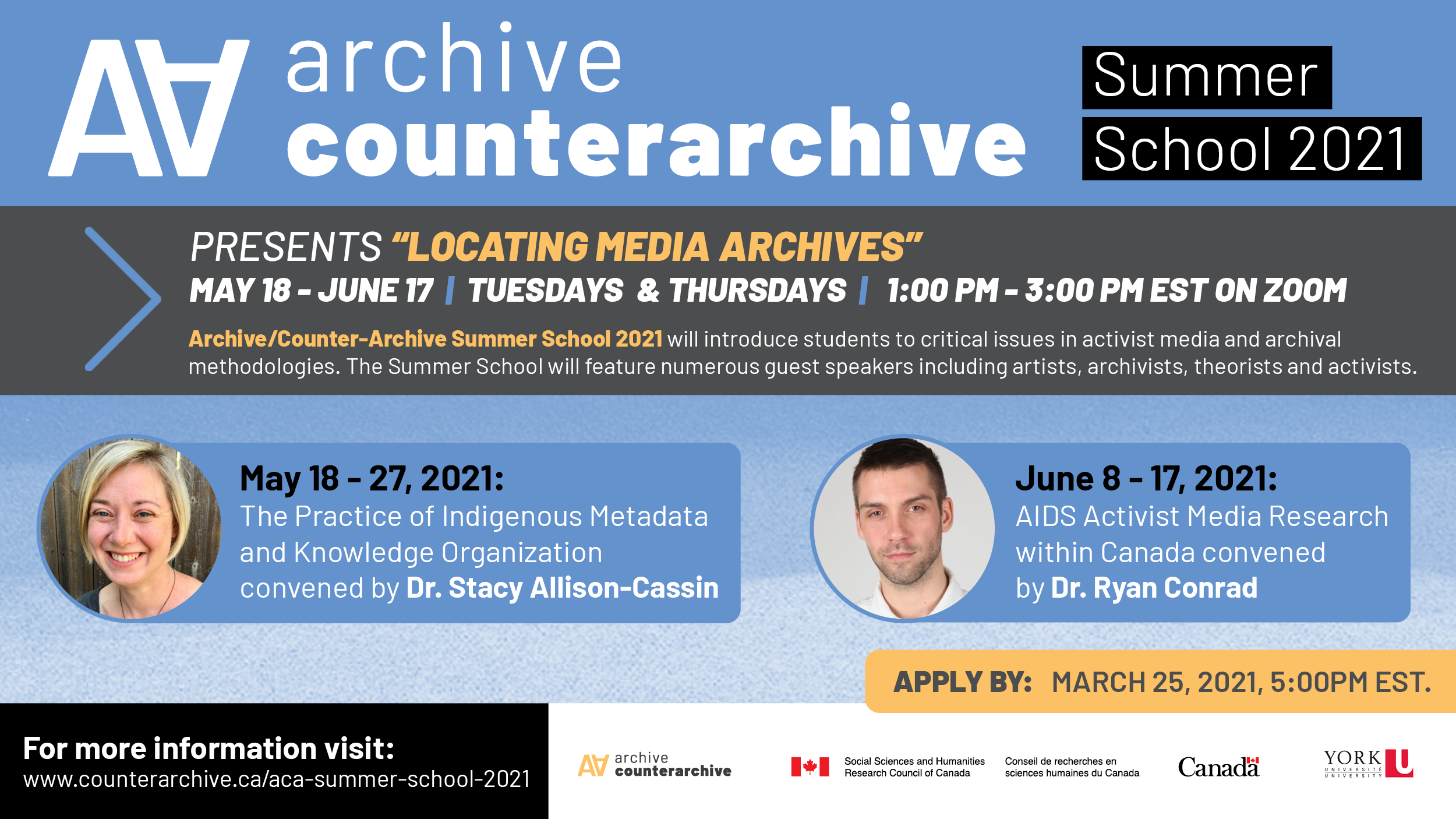 We are excited to announce that we are launching the A/CA Summer School, from May 18 to June 18 2021. The Summer School is comprised of two intensives that will introduce graduate students to critical issues in activist media and archival methodologies. The Summer School will feature numerous guest speakers including artists, archivists, theorists and activists. Stay tuned for the announcement of public talks.
Click here for more information about the Summer School. 
Working Papers Series Recordings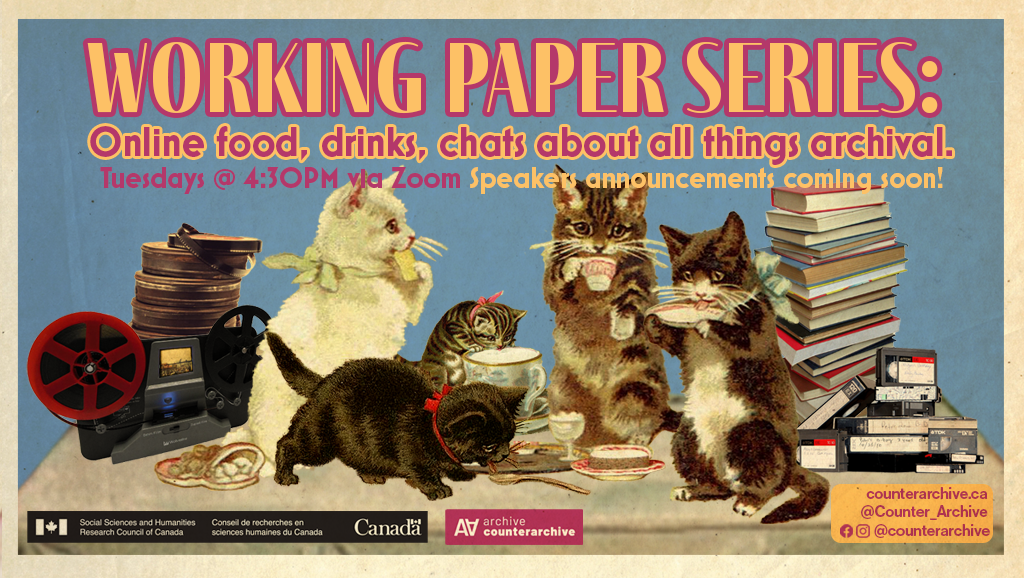 The recording of Ana Rita Morais's talk, Remediating the [AR]chival Impulse, is available to view on our website.
We also happy to announce that Sylvia Nowak's talk, This is Toronto: Finding Antifascism in the Neoliberal Archives 1979-1998, which took place on March 23, 2021, is available to watch here. 
Talking Archives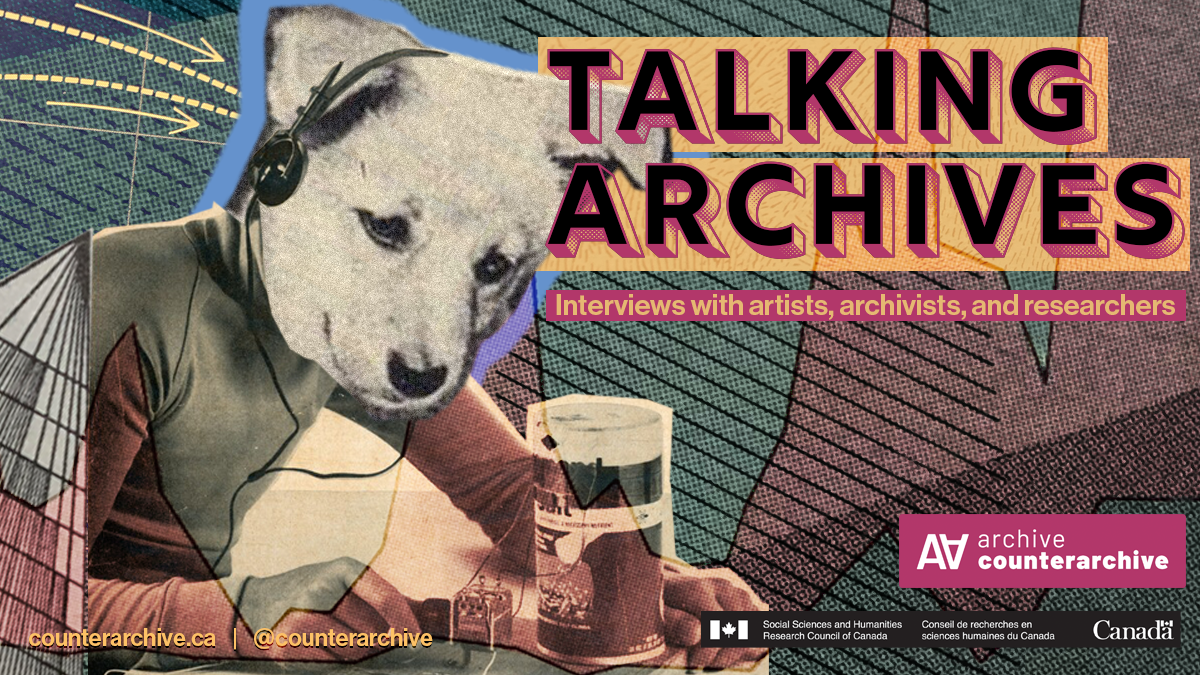 It's been almost a year since we launched our online interview series: Talking Archives!
Our next episode will feature Pamila Matharu, Artist in Residence at the Archives of Ontario. You can read more about Pamila's residency here.
Stay tuned!