Content
VML Team: Susan Lord, Director; Tamara Lang, Project Manager; Ryan Randall, Technical Director; Arvin Zhang, SWEP student; Sylvia Nowak and Hiba Ali, doctoral students.
This past year, the construction and installation of the Vulnerable Media Lab at Queen's University was completed. The VML is now equipped to digitize (super-)8, (super-)16, and 35- millimeter film as well as older European sizes. We are also set for 15 video formats. The VML also has its mobile media unit available to take to community and for outdoor projections. And we would like to introduce you to FRED (Forensic Recovery of Evidence Device): FRED can hack your hard drives and work with numerous formats (remember the Zip drive, the floppy) that may hold media and documents you can't retrieve in the drive-less world.
We have held a number of workshops and training sessions in the lab: The Agile Humanities team came twice to Queen's to work with our Library and Archives group and the Centre for Advanced Computing to workshop issues about design, storage, and DAM (digital asset management)/ Islandora 8. Juana Suarez, Director of the Film Preservation Program at NYU and a member of the A/CA International Advisory, came to meet the VML team and give a workshop to our students on film preservation. Rosaleen Hill, Director of Art Conservation at Queen's, provided a workshop on handling and baking video. And the team just completed a training session on FRED. Sylvia and Hiba also ran a workshop for youth in conjunction with the public library: Hack your Home Movies. Susan and Tamara taught a fourth-year seminar course for Film and Media Students last Fall, titled "Remediation: Archives and the Textures of Time." Tamara will be offering this course again in a few weeks. The VML will hold a variety of technical and archive remediation workshops throughout this upcoming year and will be sure to alert the A/CA group.
This summer has been a busy time for the Vulnerable Media Lab as we started up work with three A/CA case study groups. Our Summer Work Experience Program student, Arvin Zhang (Computing and the Creative Arts major), worked with Ryan to develop handbooks, working methods and training guides. She gained a great deal of experience in handling assets and in the digitization process.
In July, we received a collection of nine films from the Nova Scotia archives—hand-delivered by Jennifer Vanderburgh. The films were made from the 1940s to the early-60s by the Nova Scotia Film Bureau's Margaret Perry.
The Winnipeg Film Group sent us four 16 mm short films along with BetaSP and MiniDV tapes from their collections. This is the inaugural delivery to the VML from the "Found Footage: Re- Examining the History of the Winnipeg Film Group" case study.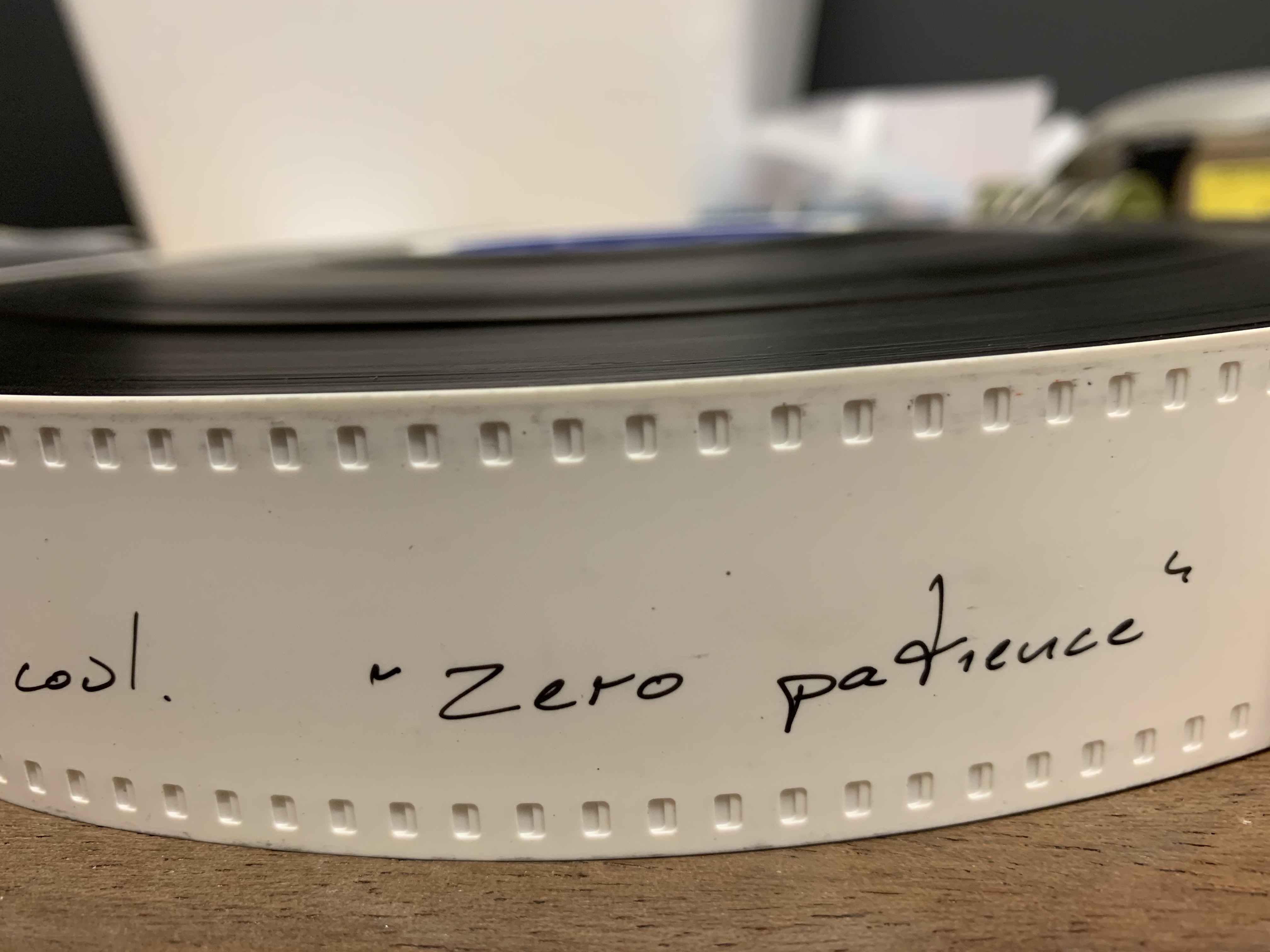 Finally, John Greyson's Zero Patience, has just arrived at the VML from TIFF in all its 35 mm glory. Zero Patience will be included in the VTape-based case study, "Activist Media and Toronto Living With AIDS 1980-."
Each year we hope to invite an artist to work in the lab and with the team to remediate their own archive. In the Winter 2019, we welcomed Lisa Jackson as the VML's inaugural artist in residence—she installed her Virtual Reality experience, Biidaaban: First Light, presented her films, and worked with Ryan, and students.
In Winter 2020 four members of Arnait Video Productions –the Inuit women's video collective of Igloolik—will be in residence for two weeks. Arnait's archive of preproduction materials are held at Queen's Archives. Karine Bertrand and doctoral student Valerie Noftle are working with that material for the Arnait case study. Stay tuned for the numerous events related to the residency.
The VML also works with local artists and community-based archives. Floating Archives took place this winter and summer, with Sylvia working with the Modern Fuel Artist Run Centre and Skye (Don Maynard) productions to remediate and present material from MFARC's archive on Don's floating screen down at the Cataraqui riverside park.