Content
Image: View of Lines of Sight, 2022. Memorial Art Gallery, Rochester. ©Andy Olenick, Fotowerks, Ltd.
New A/CA member Almudena Escobar López—a Spanish-born curator, writer, and newly appointed Assistant Professor on Film History, Film Preservation and Collection Management at the School of Image Arts of the Toronto Metropolitan University—has several current and upcoming archivally-resonant projects that we thought would be of interest to our community.
See below for a brief bio and descriptions of each of these events.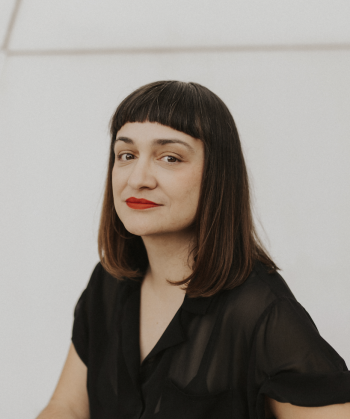 Biography:
Almudena Escobar López is an independent curator, archivist, and researcher from Galicia, Spain. Her interdisciplinary research centers around documentary and artist's moving image practices, but opens onto larger questions regarding decoloniality, visual historiography, anthropology, and alternative information ecologies. As a guest curator, Almudena has curated and co-curated a number of film and video series which have been presented at Film Society Lincoln Center, Anthology Film Archives, Museum of Modern Art, Aspen Museum of Art, Cinemateca de Bogotá, UnionDocs, Cineteca Nacional de México, among others. She was program advisor of the 2020 and 2022 editions of Art of the Real at the Film Society of Lincoln Center, and with Sky Hopinka, she co-curated the 67th Flaherty Film Seminar, Continents of Drifting Clouds. She is Assistant Professor on Film History, Film Preservation and Collection Management at the School of Image Arts of the Toronto Metropolitan University.
Exhibition | Crystal Z Campbell: Lines of Sight
February 8-July 16, 2023, Memorial Art Gallery, Rochester
Crystal Z Campbell's multidisciplinary art practice centers on "public secrets"—stories known by many but rarely told. Lines of Sight illuminates the 1921 Tulsa Race Massacre, when white mobs attacked and killed hundreds of Black residents, destroying over 35 city blocks of the predominantly Black Greenwood district (a.k.a. Black Wall Street) in Tulsa, Oklahoma. However, rather than images of the massacre, this immersive exhibition offers an alternative narrative revealing Black communities that thrived despite the massacre.
In the film Flight, archival footage by the Black amateur filmmaker Solomon Sir Jones, who documented thriving Black communities in Oklahoma from the mid 1920s on, is punctuated by the Gap Band's hit song You Dropped a Bomb on Me. Campbell provides multiple points of entry, intentionally making the images difficult to perceive by using an "impossible" color combination of red and green hues.  
Three collages from the Notes from Black Wall Street series feature archival photographs depicting the rebuilding of Greenwood. The artist applied think paint to scar the images, their response to the deliberate erasure and silencing of these stories. With each artistic decision and gesture, Campbell employs various modes of making historical records legible or illegible, complicating how we as viewers perceive history.
https://mag.rochester.edu/exhibitions/lines-of-sight/
Exhibition | Cinema of Sensations: The Never-Ending Screen of Val del Omar
Mar 10-Oct 1, 2023, The Museum of the Moving Image, NYC
Museum of the Moving Image will present a major exhibition devoted to the work of José Val del Omar (1904–1982), a visionary Spanish artist, filmmaker, and inventor who approached cinema as a multisensory experience. Presented in collaboration with the Val del Omar Archive, the Museo Nacional Centro de Arte Reina Sofía, and the Max Estrella Gallery, and organized by guest curator Almudena Escobar López, Cinema of Sensations brings Val del Omar's immersive cinematic installations to U.S. audiences for the first time, with the monumental work Elementary Triptych of Spain (1953–95) as its centerpiece. Val del Omar's work is shown alongside commissioned pieces by contemporary artists Sally Golding, Matt Spendlove, and Tim Cowlishaw; Duo Prismáticas; Esperanza Collado; and Colectivo Los Ingrávidos, who interpret and draw on his work for inspiration. Presented with support from The Andy Warhol Foundation for the Visual Arts, Acción Cultural Española (AC/E), and National Endowment for the Arts (NEA). 
https://movingimage.us/event/cinema-of-sensations/
Screening | MoMA Modern Mondays: An Evening with Colectivo los Ingrávidos
Mon, Mar 13, 7:00 p.m., MoMA, Floor T2/T1, Theater 2, The Roy and Niuta Titus Theater 2
Colectivo los Ingrávidos (Tehuacán) approaches cinema as a ritualistic process capable of connecting moments across space and time. Images multiply, repeat, disintegrate, superimpose, and palpitate to the rhythm of hypnotic soundtracks. Foregrounding intimacy as a political gesture, Colectivo los Ingrávidos propose a cinematic trance of images, myth, and embodiment that bridges the ancestral to the avant-garde.
Focusing on Los Ingrávidos' concept of "shamanic materialism," this program is intended as a ritual, a sensorial and physical communal experience. Ranging from the intrinsic connection between classic Mexican cinema and the violence of the cinematic image to the impossibility of the testimony and its perverse illusion of irrefutable truth, this radical accumulation of images culminates with Tierra en Trance, a double-cinematic and colonial-ritualistic trance that deals directly with 500 years of irreconcilable excess.
This program is presented in conjunction with the Museum of the Moving Image, on the occasion of the exhibition Cinema of Sensations: The Never-Ending Screen of Val del Omar, in which Lumbreras (Luminaries), a new commission by Colectivo los Ingrávidos, will be on view. The post-screening conversation will be moderated by exhibition guest curator Almudena Escobar López.
https://www.moma.org/calendar/events/8586
Presentation & Publication | Archival Assembly #2: Accidental Archivism at the Arsenal
31 May-30 June, 2023, Arsenal – Institute for Film and Video Art, Berlin
At the upcoming international Festival Archival Assembly #2, Arsenal – Institute for Film and Video Art critically examines its cinematic legacy in the context of its own colonial and migration-based history. It has invited "accidental archivists" from Great Britain, Austria, Portugal, Serbia, Nigeria, Congo, Egypt, Lebanon, Brazil, Mexico, India, Indonesia, South Korea, Canada and the United States to develop a multifaceted programme. The festival will present newly restored works of independent cinema, as well as contemporary films which explore the power structures of our times. International archival and research projects will be presented in various stages of production so that interested parties may participate in the entire development process. The changing significance of film archives will be the topic of discussion at an international symposium, and an exhibition curated by the Kafy-ta artist collective will highlight the archive as a place of production. A discussion series jointly developed with the Goethe-Institut will address the central theme of the festival, namely how to create a decolonialised, transnational and collaborative archival praxis, based on sharing knowledge and resources.
https://www.kulturstiftung-des-bundes.de/en/programmes_projects/film_and_new_media/detail/archival_assembly_2.html