Content
The Indigenous Archives Gathering (October 17–18, 2022) will bring together Indigenous artists, film and media specialists, archivists, curators, Knowledge Keepers, Elders, memory workers and scholars from across Canada. Themes of traces and care will be explored through three perspectives 1) access, 2) engagement, 3) activation of archives from different First Nations, Inuit and Métis communities as well as regions.

The central focus of the Indigenous Archives Gathering will be media art archives and related intangible archives that exist within a range of situations: traditional memory institutions, artist-run centres, communities, homes/private life. The aim is to foster vital conversations and allow participants to share knowledge, identify needs, best practices and experiences about the current state of Indigenous media art archives in Canada. The presentations and outcomes of this gathering will be published as a part of Archive/Counter-Archive's publication series. 

Opportunities for Indigenous Peoples to continue cultural practices of gathering and collaboration are incredibly important given the long history of colonial attempts through legislation and pass and permit systems to control our movement and our ability to come together. Gatherings help form the structure and foundation of our kinship and relationality to care. 

By hosting the Indigenous Archives Gathering, we aim to create a space for Indigenous individuals and groups who are doing the important memory work in collections to come together in conversation with each other. 
Producer:
Jennifer LeBlanc (Queen's University) 
Steering Committee:
Linda Grussani (Convenor, Queen's University) 
Jennifer Dysart (MFA York University, independent filmmaker) 
Niki Little (NFB North West Studio) 
Lisa Myers (York University) 
Julie Nagam (University of Winnipeg) 
Dylan Robinson (Queen's University)
Daina Warren (Urban Shaman)
Stacy Allison-Cassin (Dalhousie University)
Naomi Johnson (imagineNATIVE)
A/CA Project Management Committee:
Janine Marchessault (York University) 
Aimée Mitchell (York University)
Antoine Damiens (York University)
Andrew Bailey (York University)
Dhvani Ramanujam (York University)
Schedule
*All sessions are open to the general public with the exception of the workshops on Tuesday morning which are Indigenous only (click here for workshop registration form).
Convenor for the Indigenous Archives Gathering, Linda Grussani
MC for the Gathering, Dr. Stacy Allison-Cassin
DAY ONE - MONDAY, 17 OCTOBER 2022
*All sessions on Day One are open to the general public and will take place in Cinema 3 
9:00 AM–10:00 AM, Registration: Coffee, tea, and visiting/networking. Open to the general public.
10:00 AM–10:30 AM, Morning Opening: Elder Opening, Pauline Shirt. Open to the general public.
10:30 AM–12:00 PM, Opening Keynote -  What gets saved? What gets left behind?: This opening keynote presentation by Sherry Farrell-Racette and Marjorie Beaucage, discusses Indigenous peoples/communities and Archives. This exchange will help to set up the framework to be explored at the Gathering. Open to the general public.
12:00 PM–2:00 PM, Lunch. A list of nearby affordable food options are included at the back of this programme.
2:00 PM–3:30 PM, Afternoon Session - Indigenous Archives in Conversation: Indigenous Archives in Conversation features curators, arts workers, and librarians in dialogue about themes of preservation, care, and memory work in relation to Indigenous media archives. Moderated by Stacy Allison-Cassin, panelists Jessica Kotierk, Kayla Lar-Son, Roger Lewis, and Jennifer Smith will also engage with issues of access and (re)activation in connection to archives, in their personal, professional, and collective practices.  Open to the general public.
3:30 PM-4:00 PM, Break
4:00 PM–5:30 PM, Short Film Programme - Echoes and (Re)Traces: Screening Land and Cultural Knowledge: Moderated by David Garneau. Talks and films from filmmakers Luke Parnell, Jennifer Dysart, Adrian Kahgee, and Caroline Monnet. Remediation (2018), Revisiting Keewatin (2022), Everything is Right Here (2021), and Mobilize (2015). The works in this program engage with practices of Indigenous cartographies and map-making, posing questions of how cultural memory is preserved and negotiated through relationships to land.  Open to the general public.
6:00 PM–7:30 PM, Exhibition Opening Reception - Press the Record Button: Considering the Archives of Mike MacDonald: Curated by Gathering Steering Committee member, Lisa Myers, this exhibition at Vtape creates a series of study centres where visitors will be able to peruse a selection of materials from the late Mike MacDonald's archival holdings, including video recordings he made and 45rpm records he collected. See the following section for more information on the exhibition.
*Please note that the opening reception for this exhibition is open to the general public and will be located close by at The Commons (401 Richmond Street West, 4th floor). Food and drinks will be available with the generous support of Vtape. Reception is generously supported by the Department of Cinema & Media Arts, York University.
DAY TWO - TUESDAY, 18 OCTOBER 2022
*Indigenous only workshops will be held in the TIFF Learning Studios, and the Closing Keynote will be located in Cinema 3
9:30–10:00 AM: TIFF Learning Studios 4th Floor Lounge, Coffee, tea, and visiting/networking.
10:00 AM–12:00 PM, TIFF Learning Studios Studio B, Morning Workshops: *Workshops are free and open to Indigenous participants only. Workshop respondents: Linda Grussani and David Garneau. 
10:00–11:00 AM: Workshop #1 - Indigenous Media Art Archives with Jennifer Smith.

This workshop discusses the potential of creating an Indigenous Media Art Archive, starting with a discussion of the 1994 Drumbeats to Drumbytes conference, in which a group of Indigenous artists working in media art discussed a need and desire for an Indigenous Media Art Archive. 28 years later, what are the challenges and possibilities of such an archive?

Indigenous only.

11:00–12:00 PM: Workshop #2 - Lifting Our Hands Together: Indigenous Protocols in Archives with Kayla Lar-Son.

This workshop explores the concept of Indigenous Data/Knowledge Sovereignty and how it relates to archives, as well as discovering tools that archives can use to work with Indigenous communities to evaluate their access policies and procedures.

Indigenous only.
12:00 PM–1:00 PM, TIFF Learning Studios 4th Floor Lounge, Catered Lunch (for workshop participants only).
1:00 PM–2:30 PM, TIFF Cinema 3, Closing Keynote - Archival Connections: Through thoughtful conversation, Suzanne Morrissette and Krista Ulujuk Zawadski will engage the gathering's discussions around the vitalization of archives, as well as talk about their approaches to activating and engaging with objects of material and visual culture often found in personal homes, archives and collections. Open to the general public.
Speakers & Participating Artists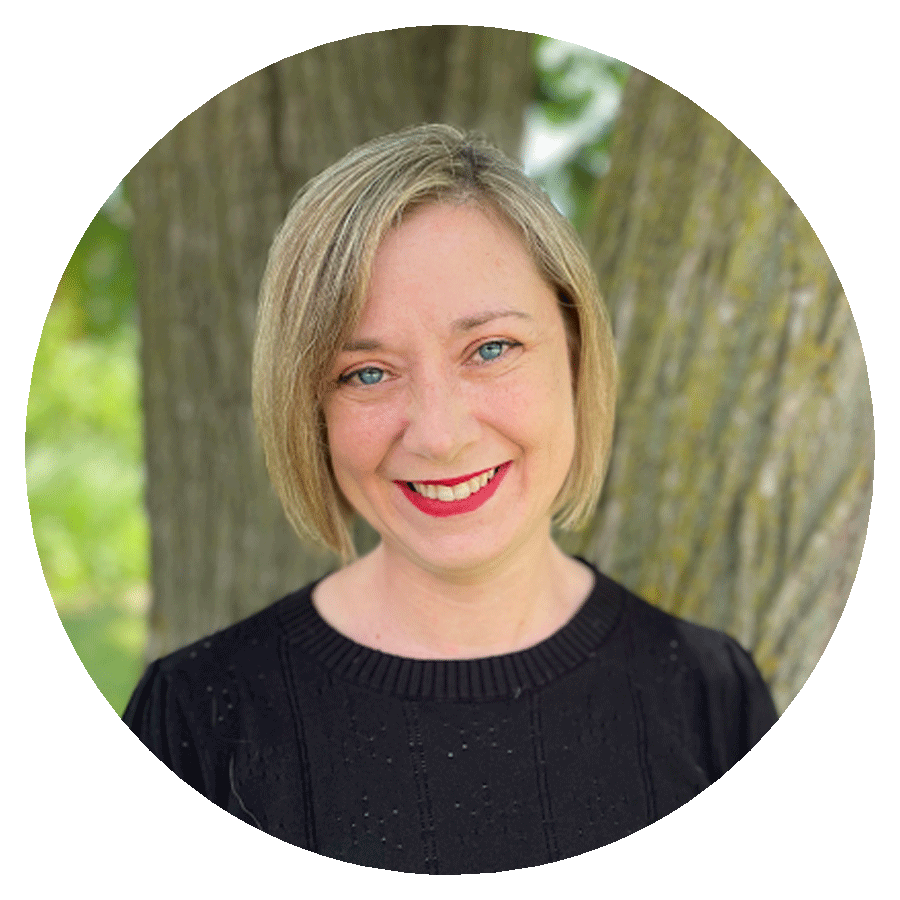 Stacy Allison-Cassin is a Citizen of the Métis Nation of Ontario with kinship connections to the Georgian Bay Métis community and through the historic north west. An Assistant Professor at the School of Information Management at Dalhousie University,  Stacy engages in work and research related to Indigenous matters in libraries and the wider cultural heritage sector. Stacy is a passionate advocate for change in information structures and metadata systems within the library profession. She is the Chair of the International Association of Library Associations Indigenous Matters Standing Committee and the community chair for the Language Preservation and Instruction community and a member of Council of the National Indigenous Knowledge and Language Association, and Indigenous-led association centred in Canada. Stacy also has extensive professional experience as a librarian, serving in a variety of roles in the libraries at York University.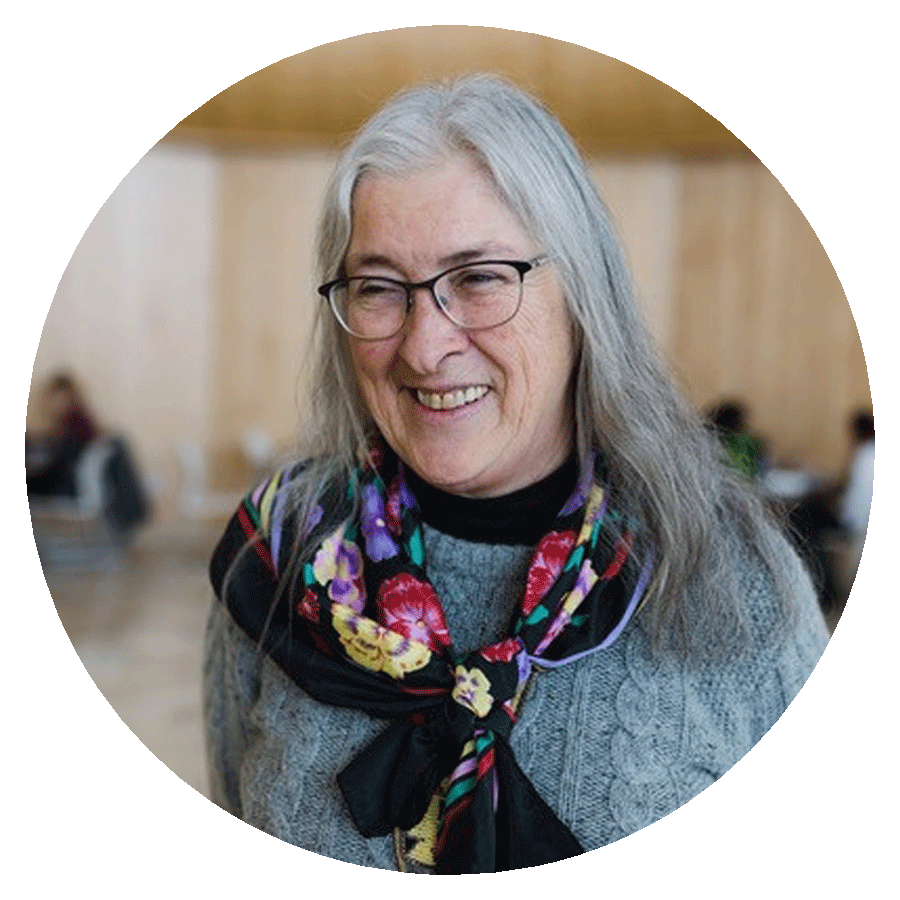 Marjorie Beaucage is a proud Métis Two-Spirited Filmmaker, cultural worker, and community-based video activist. Her work as a community based independent artist, seeks to question, empower, and change the ways we look at ourselves...seeing from the inside out. Marjorie was a cofounder of the Aboriginal Film and Video Art Alliance. As a 'Runner' she worked as a cultural Ambassador to negotiate self-governing partnerships and alliances with the Banff Centre for the Arts, V-tape, the Canada Council for the Arts which resulted in the development of Aboriginal Arts programs. She also programmed the first Aboriginal Film Festival in Toronto in 1992.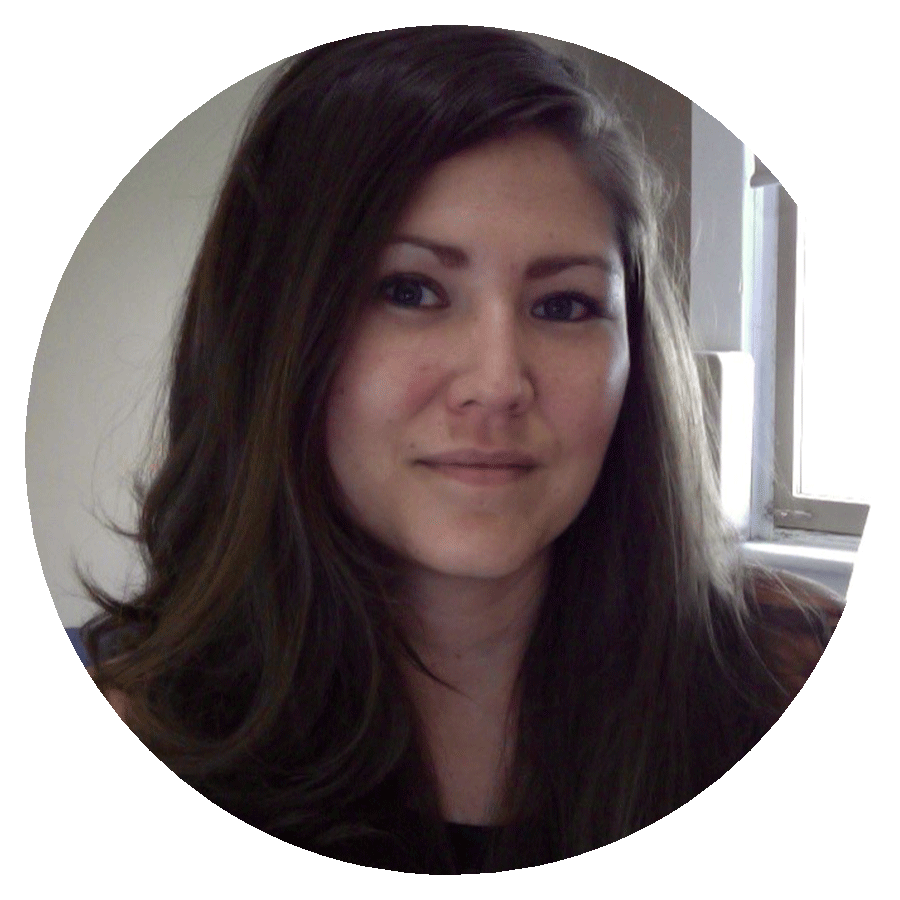 Jennifer Dysart is an archive enthusiast and filmmaker. She has an MFA from York University and was an Artist-In-Residence at Library and Archive Canada for the Archive/Counter-Archive project. She created Caribou in the Archive (2018/2019) that won the Public Prize at the International Film Festival of Ottawa (2021) and Best Canadian Short Film at the Planet in Focus Film Festival (2020). Currently residing in Hamilton, Ontario, Jennifer has a mixed background with Cree roots on her Dad's side from South Indian Lake, Manitoba.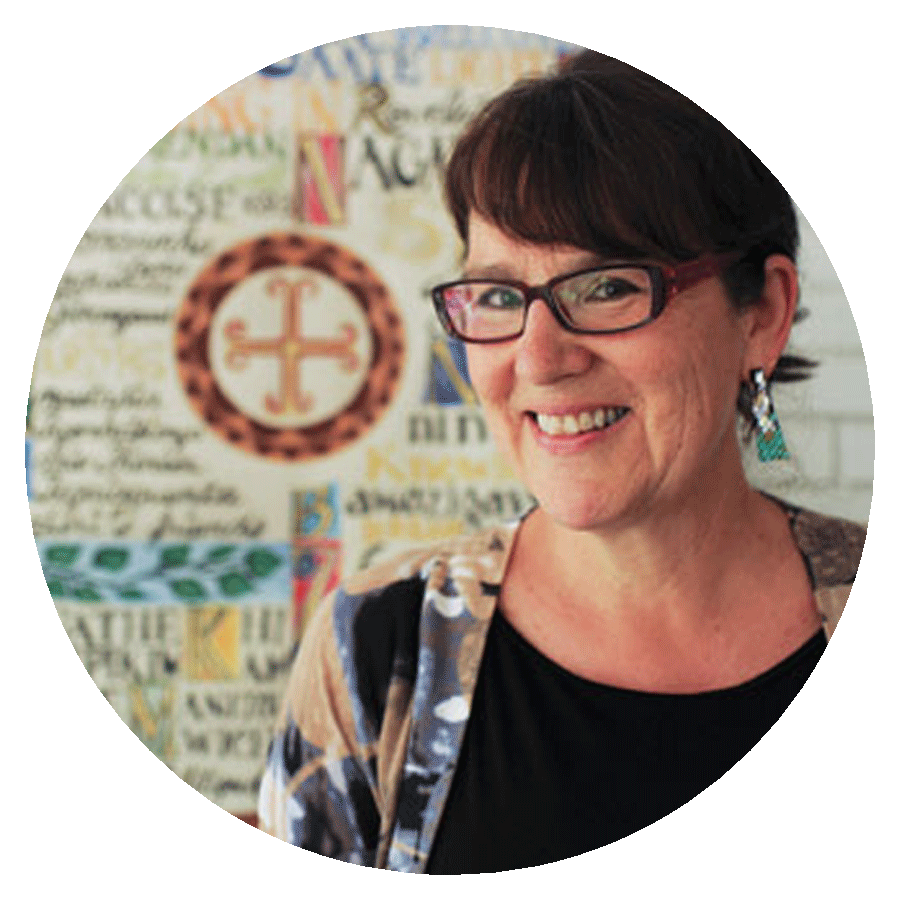 Sherry Farrell Racette is an interdisciplinary scholar with an active arts and curatorial practice. Her work is grounded in story: stories of people, stories that objects tell, painting stories, telling stories and finding stories. She has done extensive work in archives and museum collections with an emphasis on retrieving women's voices and recovering knowledge. Most recently she was cross-appointed to the Departments of Native Studies and Women's and Gender Studies at the University of Manitoba. Farrell Racette also had an extensive career in Saskatchewan education, working at SUNTEP Regina (GDI), First Nations University of Canada, and the University of Regina. She remains committed to experiential learning and Indigenous pedagogies. 
Primarily a painter and textile artist, Farrell Racette also creates narrative objects, and has begun to incorporate soundscapes into her work. She is a children's book illustrator and has collaborated with noted authors Maria Campbell, Ruby Slipperjack, Freda Ahenakew and Wilfred Burton. Beadwork has become increasingly important as both artistic practice and creative research.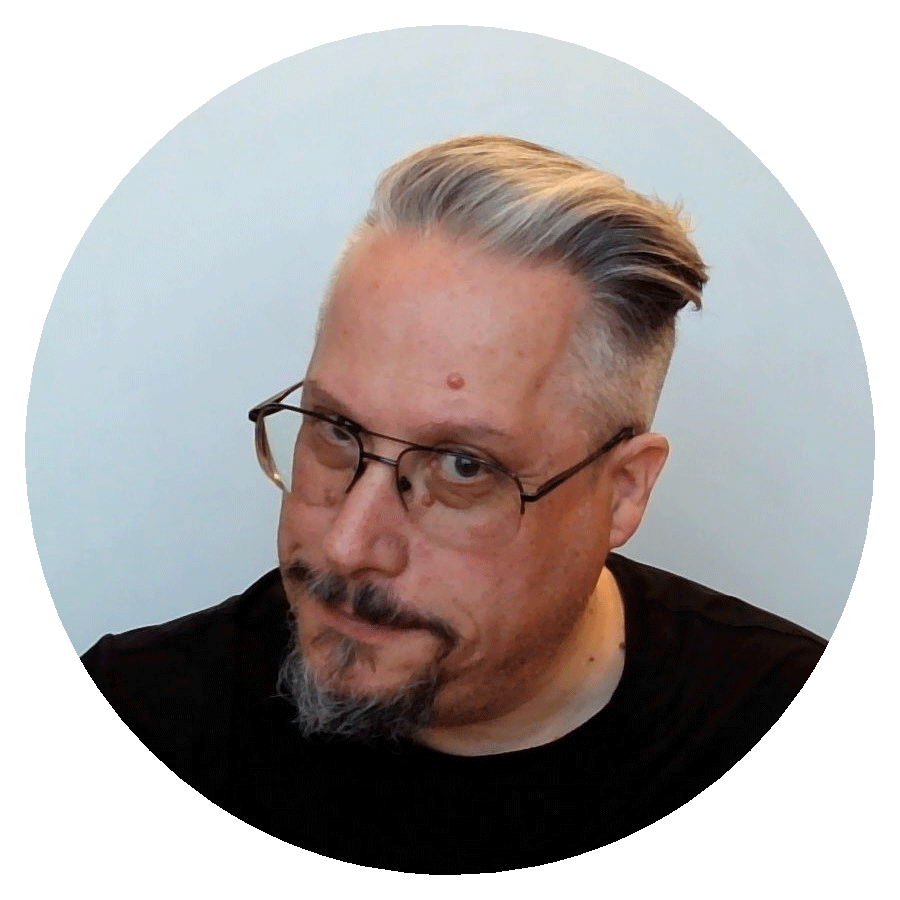 David Garneau (Métis) is Head of Visual Arts at the University of Regina. He is a painter, curator and critical art writer interested in creative expressions of Indigenous contemporary ways of being. Garneau curated Kahwatsiretátie: The Contemporary Native Art Biennial (Montreal, 2020) with assistance from Faye Mullen and rudi aker; co-curated, with Kathleen Ash Milby, Transformer: Native Art in Light and Sound, National Museum of the American Indian, New York (2017); With Secrecy and Despatch, with Tess Allas, an international exhibition about massacres of Indigenous people, and memorialization, for the Campbelltown Art Centre, Sydney, Australia (2016); and Moving Forward, Never Forgetting, with Michelle LaVallee, an exhibition concerning the legacies of Indian Residential Schools, other forms of aggressive assimilation, and (re)conciliation, at the Mackenzie Art Gallery in Regina (2015). Recent essays include: "From Indian to Indigenous: Temporary Pavilion to Sovereign Display Territories." In Search of Expo 67. 2020. "Electric Beads: On Indigenous Digital Formalism." Visual Anthropology Review. 2018. Garneau has given keynotes in Australia, New Zealand, the United States, and throughout Canada on issues such as: mis/appropriation; re/conciliation; public art; museum displays; and Indigenous contemporary art. His performance, Dear John, featuring the spirit of Louis Riel meeting with John A. Macdonald statues, was presented in Regina, Kingston, and Ottawa. David recently installed a large public art work, the Tawatina Bridge paintings, in Edmonton. His paintings are in numerous public and private collections.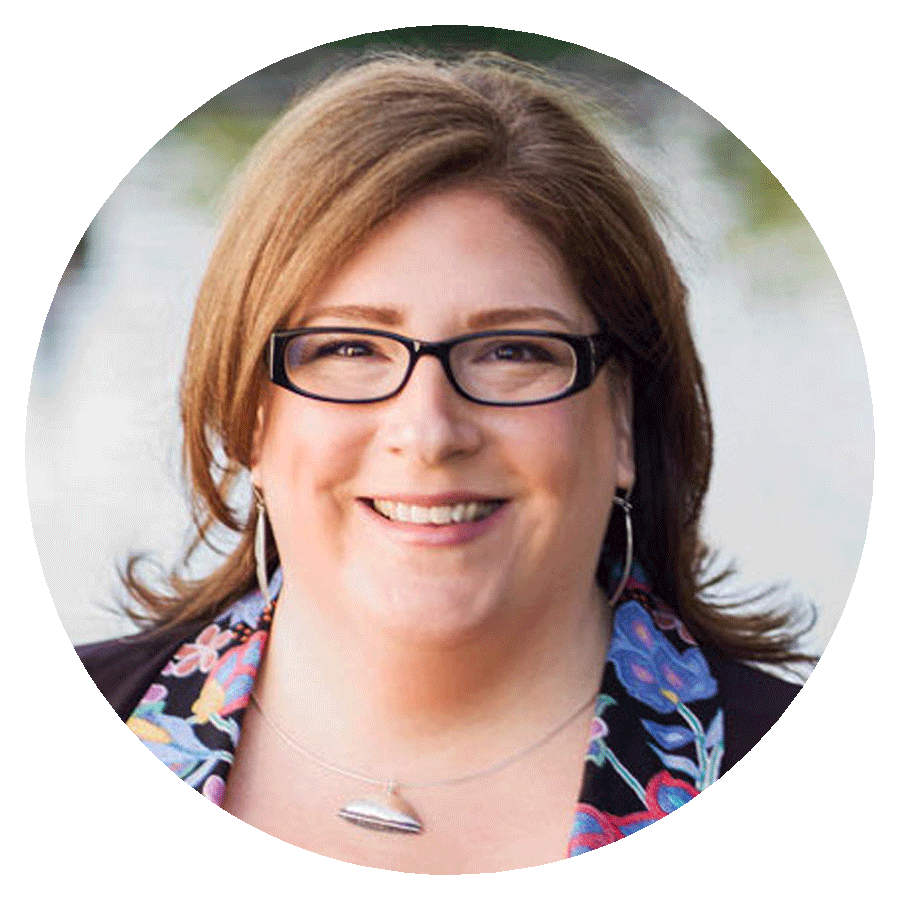 Linda Grussani (Kitigan Zibi Anishinabeg) is a curator and art historian born and raised in the Ottawa area. Currently, she is working full-time towards completing a PhD in Cultural Studies at Queen's University. Over the last decade, Linda had held the position of Curator, Aboriginal Art at the Canadian Museum of History (CMH); Director, Indigenous Art Centre for Crown Indigenous Relations and Northern Affairs Canada (CIRNAC); and has worked in the Indigenous art department at the National Gallery of Canada. Linda holds both a BA and MA in Art History from Carleton University and is a graduate of CIRNAC's Aboriginal Leadership Development Initiative (2014-15) and the CMH's Indigenous Training Programme in Museum Practices (2000-2001). Linda currently sits on the Indigenous Education Council for OCAD University, the Indigenous Collections Symposium Working Group for the Ontario Museums Association, and is a collaborator with the North American Cultural Diplomacy Initiative.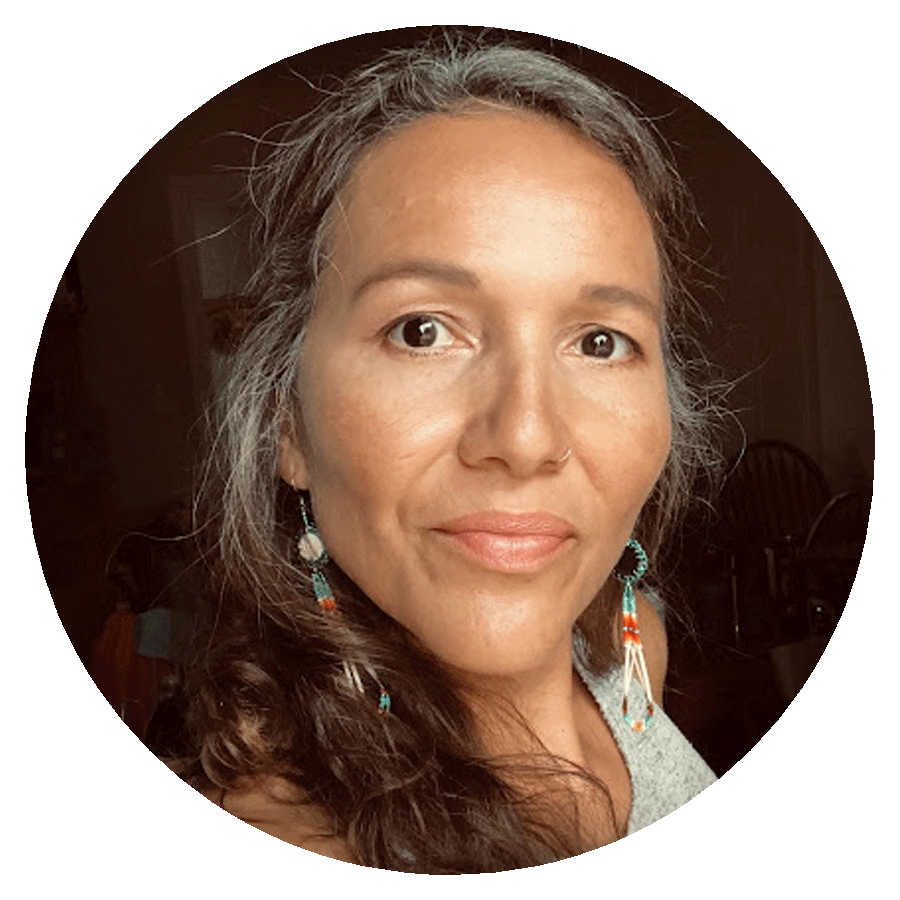 Adrian Kahgee, (Saugeen First Nation), founding member of Odeimin Runner's Club, is an artist and Community Arts Educator, currently teaching Visual Arts, with the Bluewater District School Board. She is former Co-Artistic Director and Community Co-ordinator for the Fabulous Festival of Fringe Film. Adrian is Co-Producer of Saugeen Takes on Film, a community-based film program working with artisans, youth and knowledge keepers from her community. Her current artistic practices, of painting, performance activated installations and film, are centered around research into her Afro Indigenous relations, as a member of the Saugeen Ojibway Nation and as a freedom seeker/ Black Canadian descendant of the New Lowell and Collingwood settlements. Her work further explores the sharing of familial and communal knowledge, of our existence upon Turtle Island since time immemorial.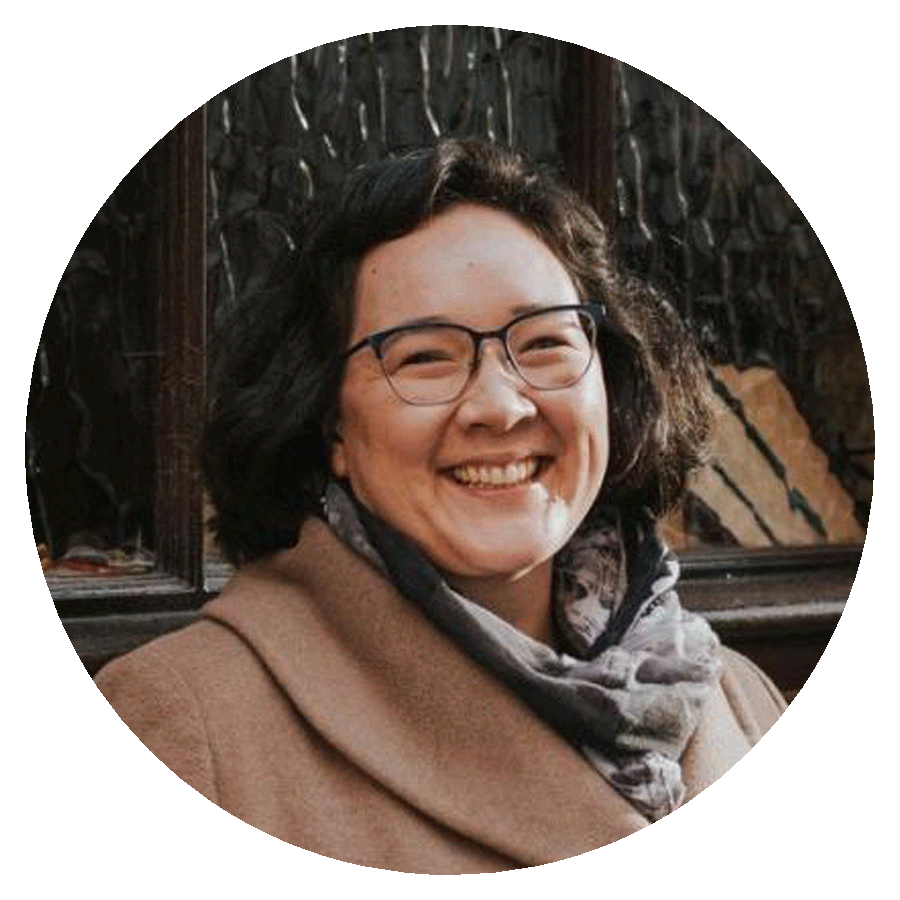 Jessica Kotierk is Manager/Curator of the Nunatta Sunakkutaangit Museum in Iqaluit, Canada. She is focused on the care of Inuit artifacts in museum collections. Jessica supports the promotion and preservation of Inuit art, and archives with past positions at the Canadian Conservation Institute, Avataq Cultural Institute, and Inuit Art Foundation before returning to Nunavut and working at the Nunavut Film Development Corporation. Her education includes a Film Studies degree and a diploma in Collection Conservation and Management. She is on the Board of the Archives Council of Nunavut and the Alianait Arts Festival and also participates in the Leadership Group of the Inuit Futures in Arts Leadership: Pilimmaksarniq/Pijariuqsarniq SSHRC Partnership Grant, which is working to foster more Inuit within the arts and culture roles.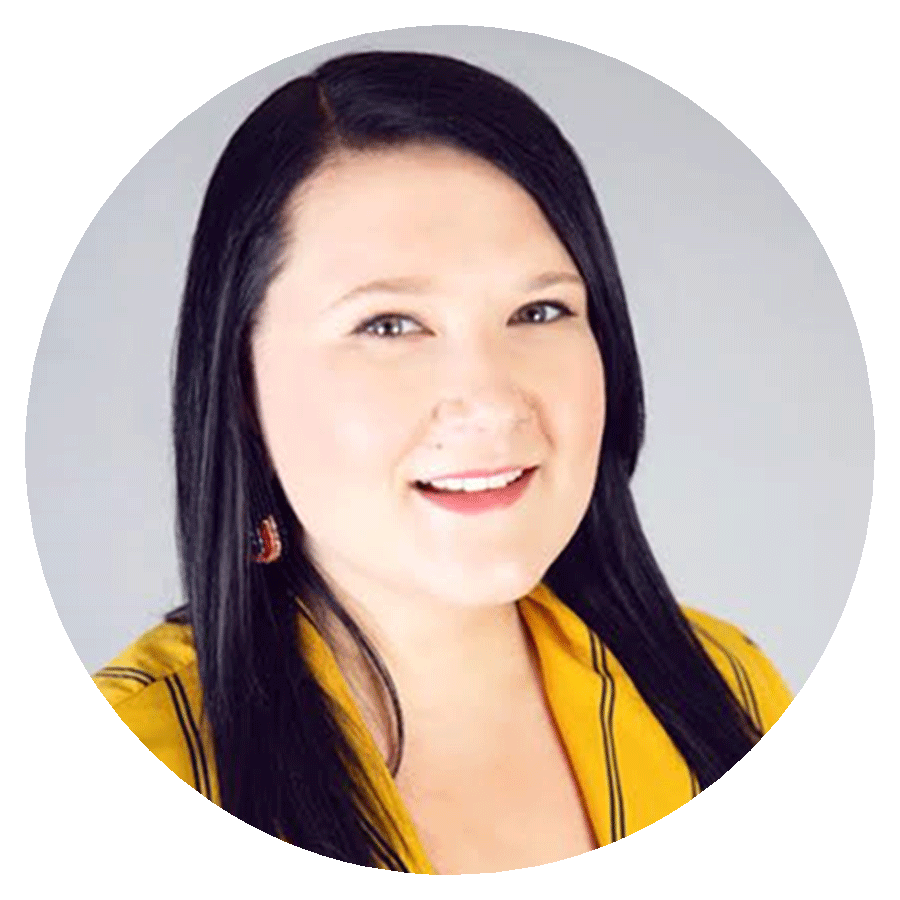 Kayla Lar-Son holds a Bachelor of Native Studies and a Masters of Library and Information Studies (MLIS) from the University of Alberta. Her professional areas of focus include Indigenous librarianship, Indigenous Data Sovereignty, and embedded librarianship with Indigenous communities. Kayla has previously been an instructor for the School of Library and Information Studies (SLIS) at the University of Alberta, where she co-taught and created LIS 598: Indigenous Library and Information Studies (LIS) in a Canadian Context. Kayla is the Program Manager Librarian for the Indigitization program. Kayla is the Indigenous Programs and Services Librarian for the X̱wi7x̱wa Library at the University of British Columbia (UBC). She works with Indigenous communities both on and off the UBC campus and collaborates with stakeholders about library services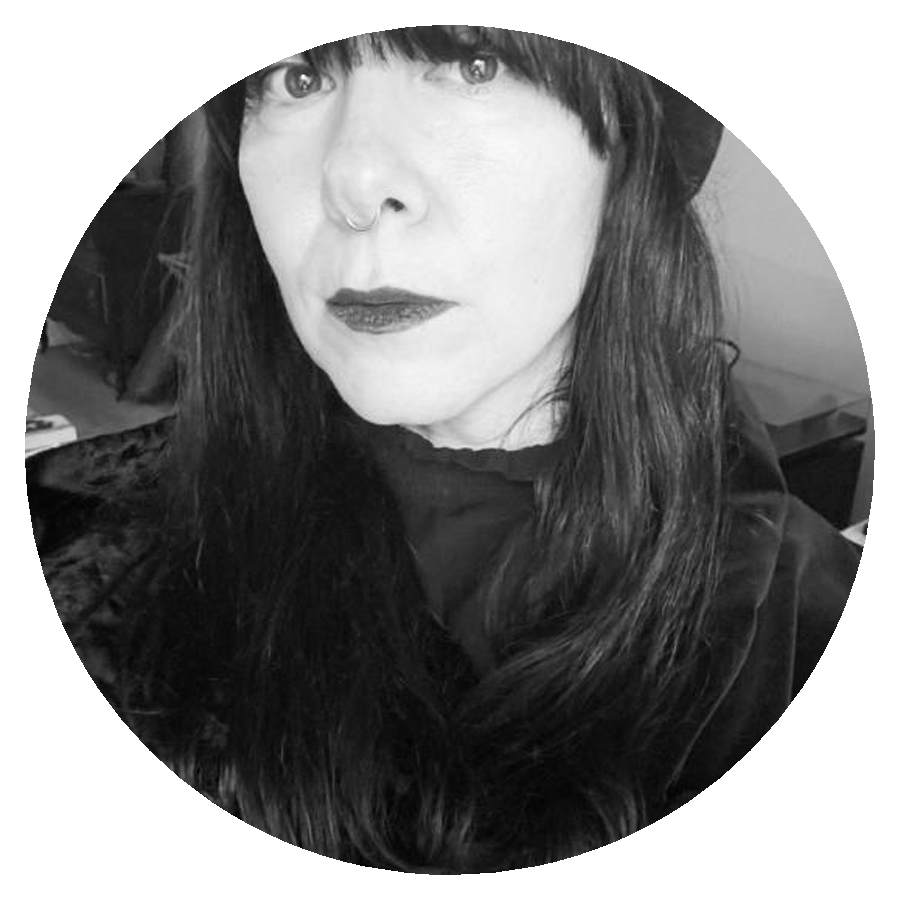 Jennifer LeBlanc (L'nu/Mi'kmaw) is a 4th PhD Candidate at Queen's University, with the Faculty of Cultural Studies. Jennifer studies with Stó:lõ sound studies scholar Dylan Robinson. Her research intersects with both Ethnomusicology and critical Indigenous Studies, focusing on the encounters/entanglements/collisions that occur between metal music timbres and Indigenous timbral bodies.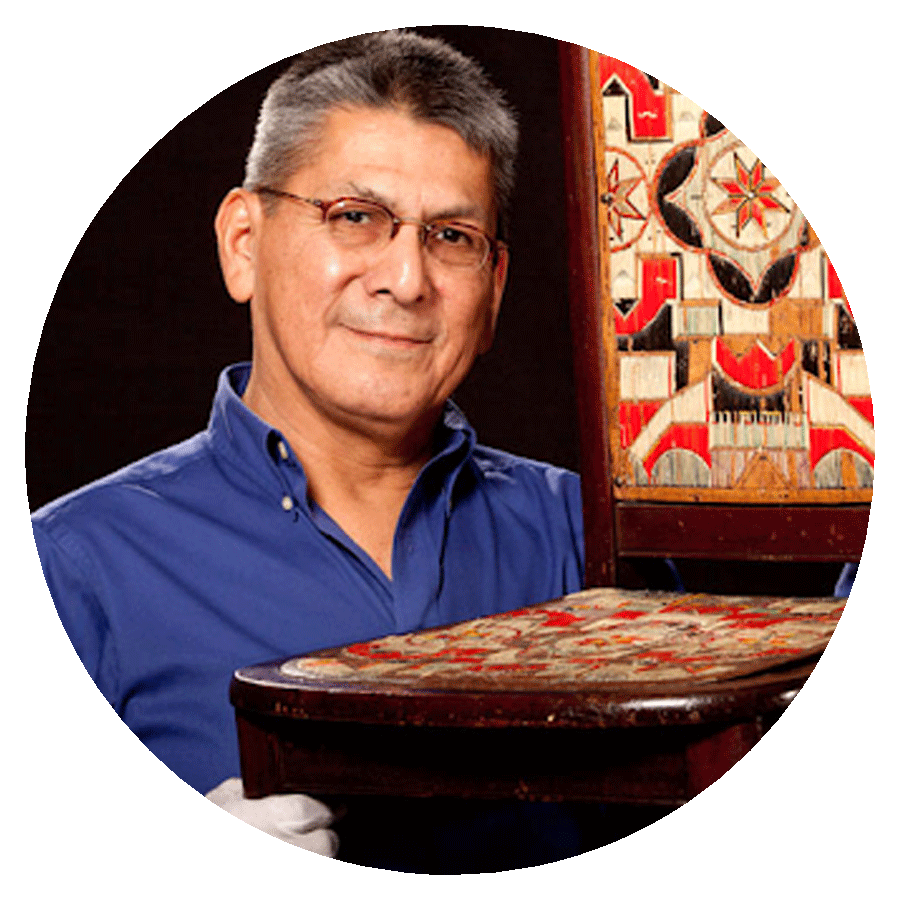 Roger J. Lewis, Sɨkɨpne'katik First Nation, is currently the Curator of Mi'kmaw Culture and Heritage with the Nova Scotia Museum.  He received his B.A. (Anthropology) from Saint Mary's University, Halifax, Nova Scotia and his M.A. from Memorial University of Newfoundland (MUN) specializing in pre-contact Mi'kmaw cultural landscape and resource use. For the past two decades, he has been working closely with Mi'kmaw communities to record important ethnographic information and stories. He is regularly invited to advise educators and to speak within the provincial school system about Treaty Rights and Mi'kmaw history. 
Mr. Lewis currently serves as the Vice President of the Board of the Mi'kmaw Native Friendship Centre where is advises on a number of issues dealing with urban residing Indigenous peoples, cultural property rights, research protocols, and the mentoring of youth. Mr. Lewis is a Keptin (Captain) of the Grand Council of Mi'kmaq. He is a Part-time instructor at Saint Mary's University co-teaching a course, "Indigenous Peoples of Canada" with Dr. Trudy Sable from 2014-2022. He was honoured by Saint Mary's University with a Doctor of Civil Law, Honoris Causa for his academic and community work involving Mi'kmaq people.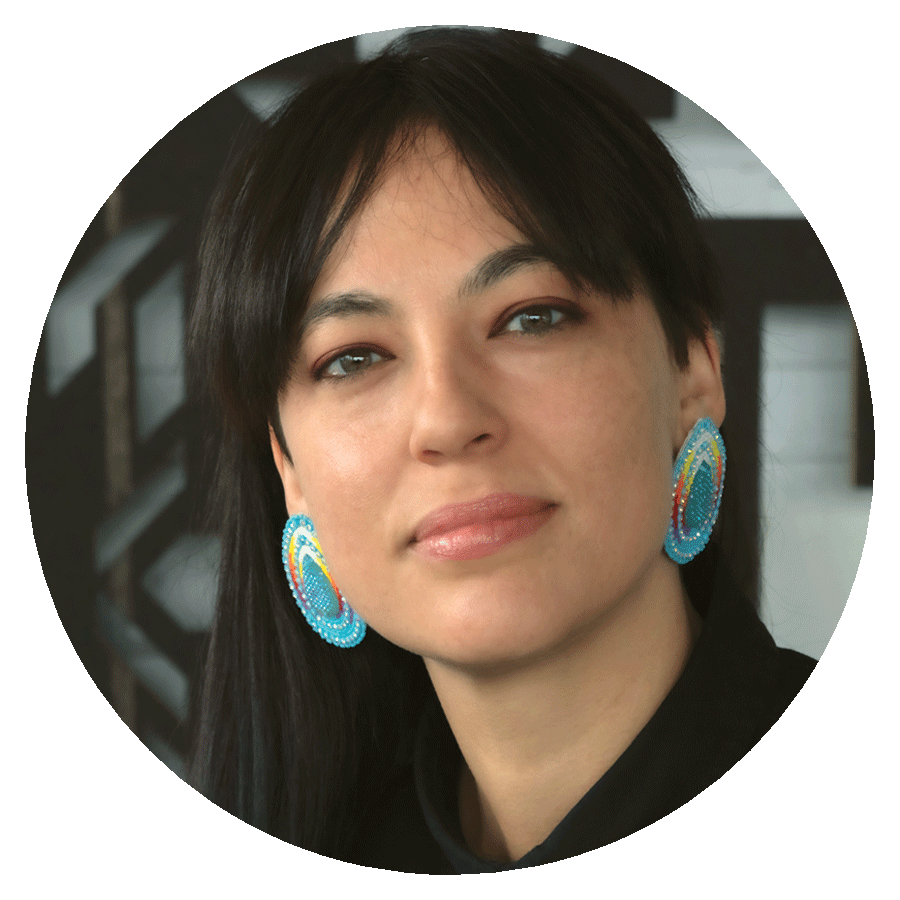 Caroline Monnet (Anishinaabe/French) is a multidisciplinary artist from Outaouais, Quebec. She studied Sociology and Communication at the University of Ottawa (Canada) and the University of Granada (Spain) before pursuing a career in visual arts and film. Her work has been programmed internationally at the Palais de Tokyo (Paris), Haus der Kulturen der Welt (Berlin), Whitney Biennial (NYC), Toronto Biennale of Art, Museum of Contemporary Art (Montréal), Arsenal Contemporary (NYC),  and the National Art Gallery (Ottawa); as well as film festivals such as TIFF, Sundance, Aesthetica (UK), Palm Springs and Cannes.  In 2016, she was selected for the Cinéfondation residency in Paris. Her work is included in numerous collections including the Quebec Museum of Fine Arts, the National Art Gallery of Canada, and the Museum of Contemporary Art in Montréal. Recent exhibitions include the Schirn Kunsthalle (Frankfurt), the Eli and Edythe Broad Art Museum at Michigan State University, and a solo show at the Montreal Museum of Fine Arts. Monnet is recipient of the 2021 Hopper Prize, 2020 Pierre-Ayot award, the 2020 Sobey Art Award, the REVEAL Indigenous Art Awards, as well as grants from the Canada Council for the Arts, Conseil des arts et des lettres du Québec and from Conseil des arts de Montréal. She is based in Montreal and represented by Blouin Division Gallery.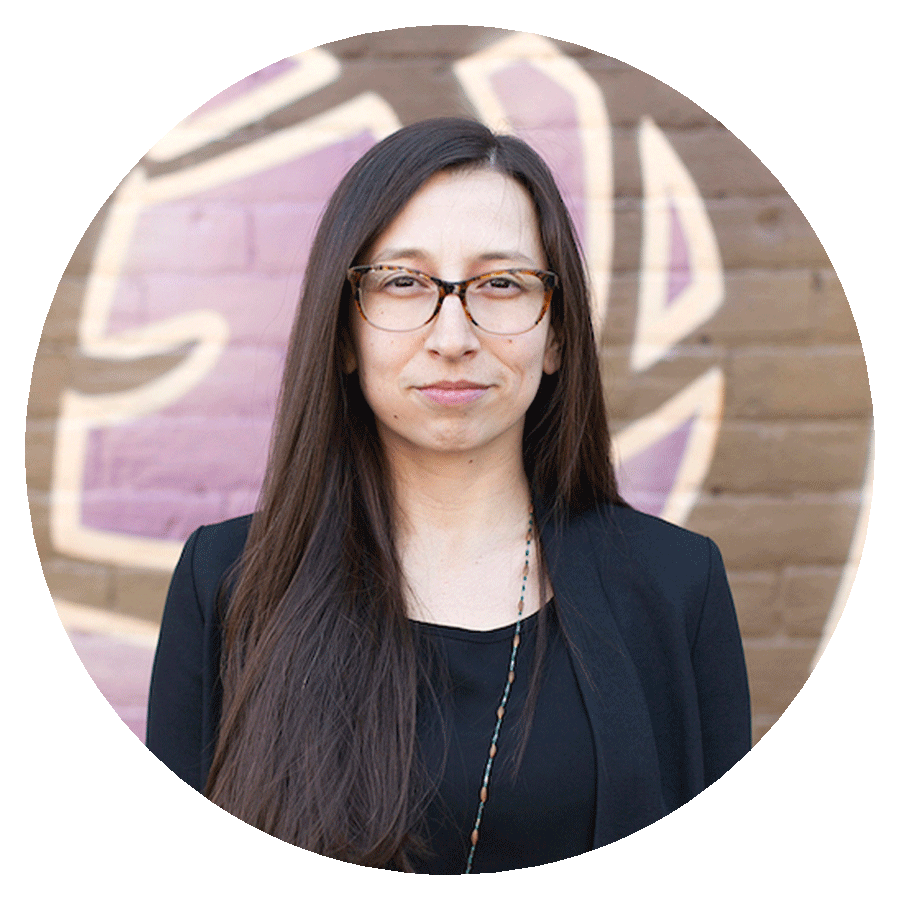 Suzanne Morrissette (she/her) is an artist, curator, and scholar. Morrissette was born and raised in Winnipeg and is a citizen of the Manitoba Metis Federation. As an artistic researcher Morrissettes's interests include: family and community knowledge, the telling of in-between histories, and practices of making that support and sustain life. This year Morrissette will open two solo exhibitions: What does good work look like? (Gallery 44, Toronto/Tkaronto), and translations (daphne art centre, Montreal/Tiohtià:ke). Morrissette's current SSHRC funded research will present creative projects related to the visual culture of grassroots activism, articulating the connections between Indigenous artists and the emergence of Indigenous-led social service organizations in the 80s and 90s in Winnipeg. She is also developing an interactive online project supported by the Canada Council for the Arts that explores the ongoing influence of Indigenous artists in Winnipeg. Morrissette holds a PhD from York University in Social and Political Thought. She currently holds the position of Assistant Professor and Graduate Program Director for two programs at OCAD University: Criticism and Curatorial Practices (MFA) and Contemporary Art, Design, and New Media Art Histories (MA).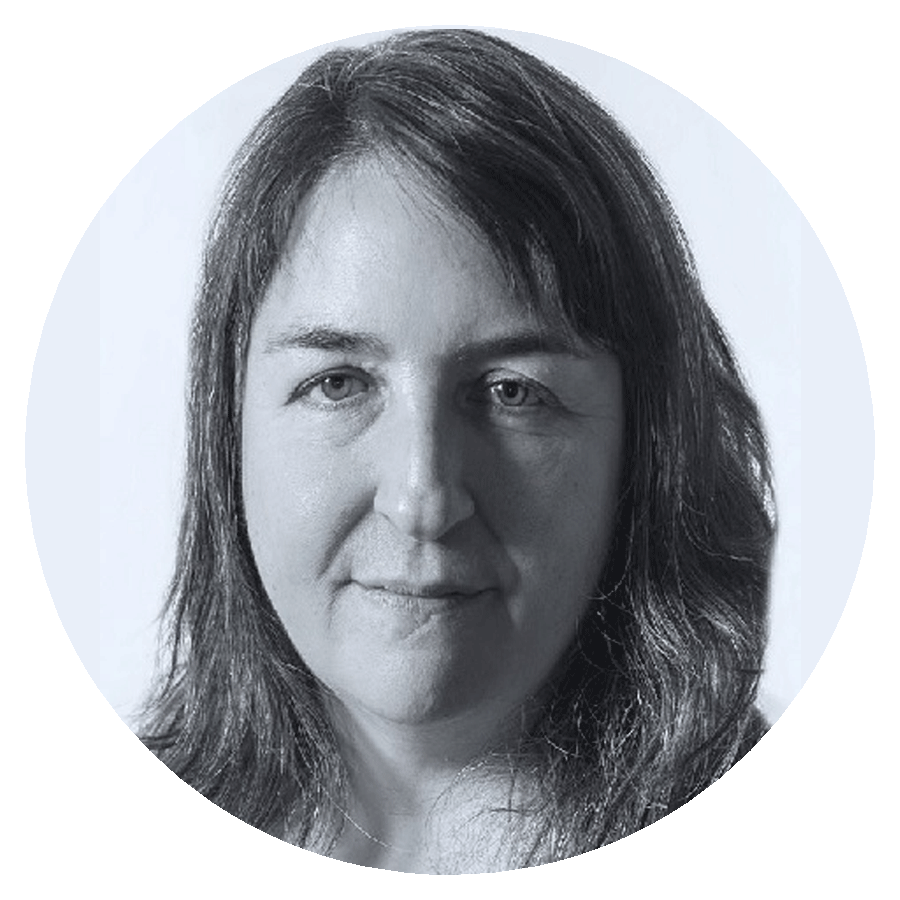 Lisa Myers is an independent curator and artist with a keen interest in interdisciplinary collaboration. Myers has a Master of Fine Arts in Criticism and Curatorial practice from OCAD University. Her recent work involves printmaking, stop-motion animation and performance. Since 2010 she has worked with anthocyanin pigment from blueberries in printmaking, and stop-motion animation. Her participatory performances involve sharing berries and other food items in social gatherings reflecting on the value found in place and displacement; straining and absorbing. She has exhibited her work in solo and group exhibitions in venues including Urban Shaman (Winnipeg), Art Gallery of Peterborough and the Art Gallery of Ontario. Her writing has been published in a number of exhibition publications in addition to the journal Senses and Society, C Magazine and FUSE Magazine. She is currently an Assistant Professor in the Faculty of Environmental and Urban Change (formerly Faculty of Environmental Studies) at York University. Myers is a member of Beausoleil First Nation and she is based in Port Severn and Toronto, Ontario.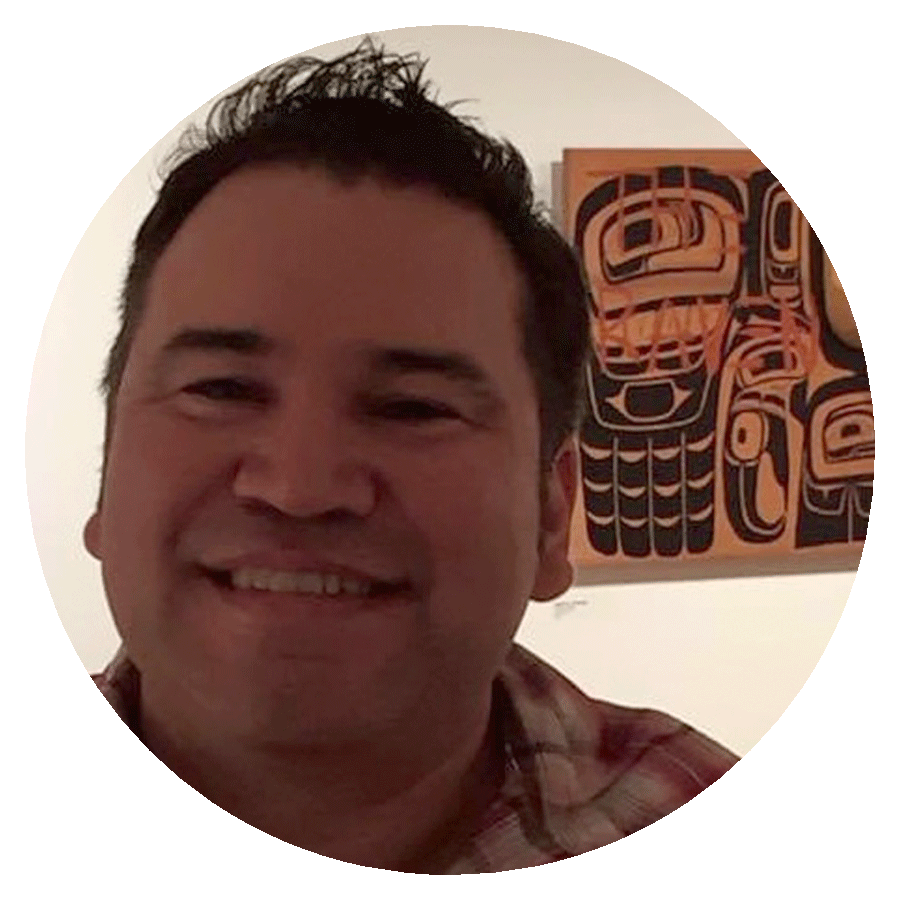 Luke Parnell is Laxgiik (Eagle) from Wilps Kwa'kaans on his mother side and Haida from Massett on his Fathers side, his Nisga'a name is Guxw Gahlgan (always carving). His artistic training is both traditional, he apprenticed with a Master Northwest Coast Indigenous carver, and classical with a Bachelor of Fine Arts from the OCAD University and a Masters of Applied Arts from the Emily Carr University of Art and Design. His medium is predominantly wood however his materiality is determined on a project by project basis. Northwest coast Indigenous art is the basis of his practice and praxis, centering on narrative, specifically transformation narratives.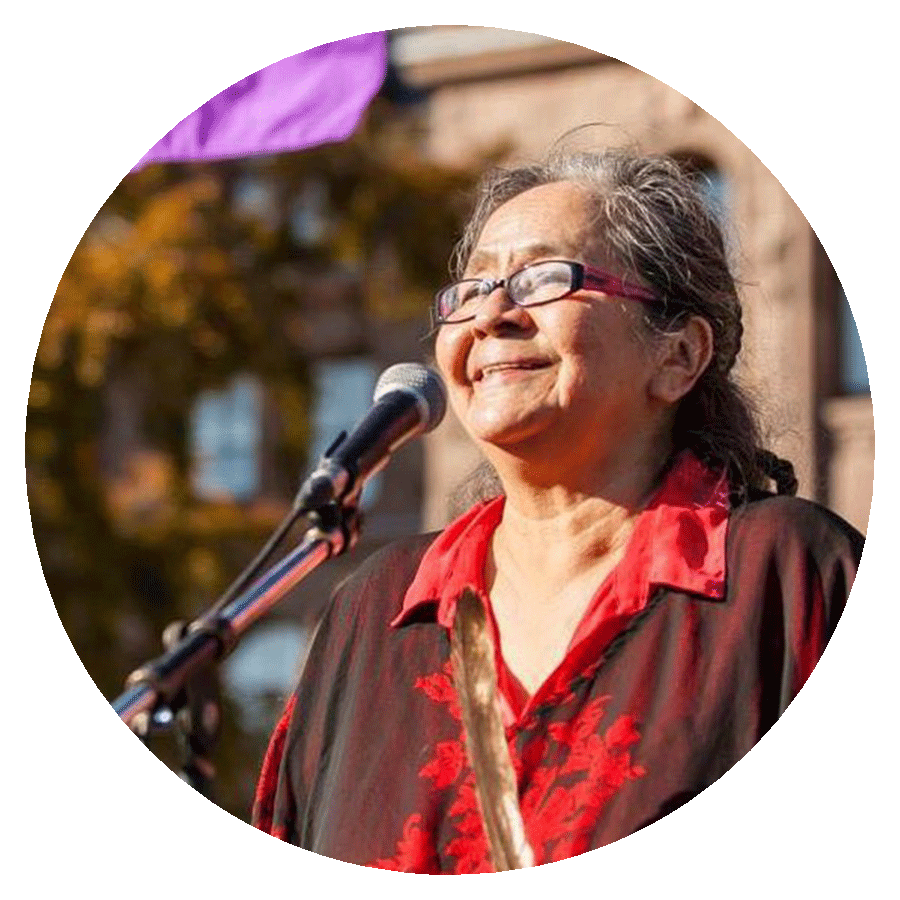 Pauline Shirt was born and raised in Saddle Lake Reserve, Alberta. Pauline is greatly recognized for her commitment to the Toronto Indigenous community and for her dedication as a teacher and lecturer since the late sixties. She is a member of the Three Fires Society and the Buffalo Dance Society. 
Being founder of the First Nations School and the Red Willow are just two examples of her hard work ethic and perseverance to enhance the betterment of the Toronto Indigenous community. Today, Pauline serves as a mentor to many Indigenous youth and young families as an experienced and trusted Grandmother. 
She also works in all levels of government conducting opening prayers and attending meetings, making sure the Indigenous community is positively recognized as she offers a voice for her people.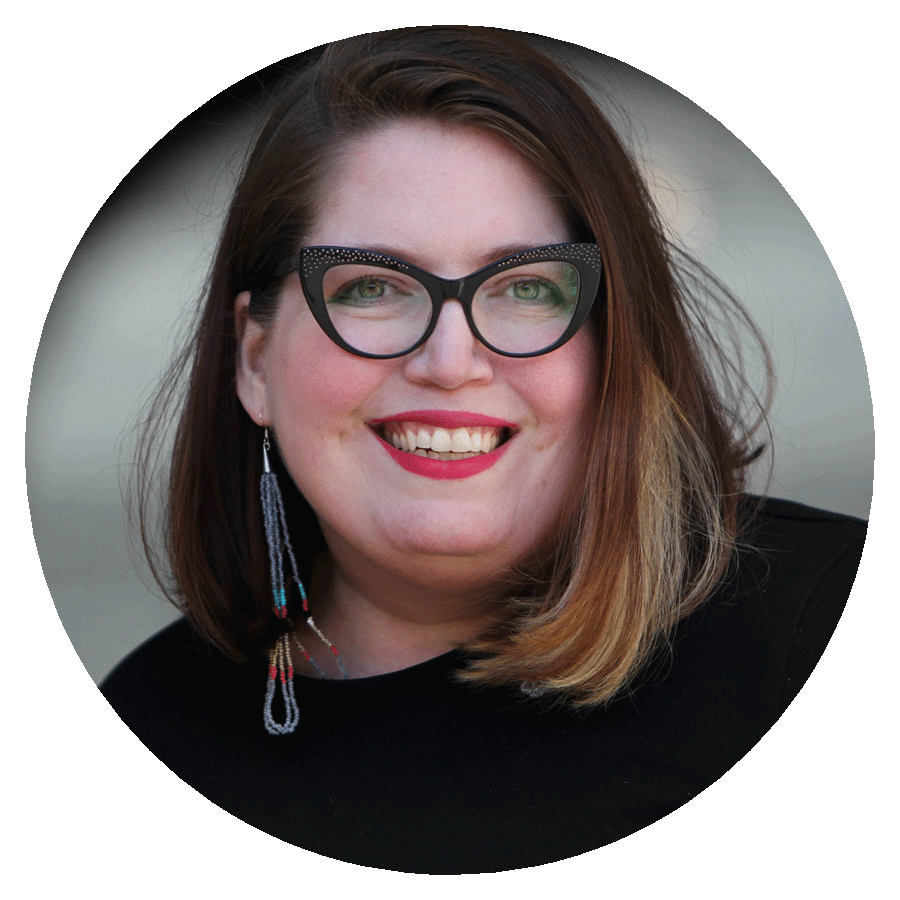 Jennifer Smith, is a Métis curator, writer and arts administrator from Treaty 1 Territory/Winnipeg. She works as the Executive Director for National Indigenous Media Arts Coalition (NIMAC), alongside her practice as an independent curator and arts writer. Jennifer's research focuses on exploring the ways we make things that range from traditional methods of making to exploring new digital technologies that tell our stories. In 2018 she was the Indigenous Curator in Residence at aceartinc. in Winnipeg, and most recently co-curated the exhibition Sovereign Intimacies with Nasrin Himada for Plug In ICA and Gallery 1C03.  
 
Jennifer worked for twelve years in Media Art distribution centres, and although she is not an archivist, she managed the archives associated with two distribution collections. Through his work she developed a great love for A/V preservation and understanding access to historical film and video collections.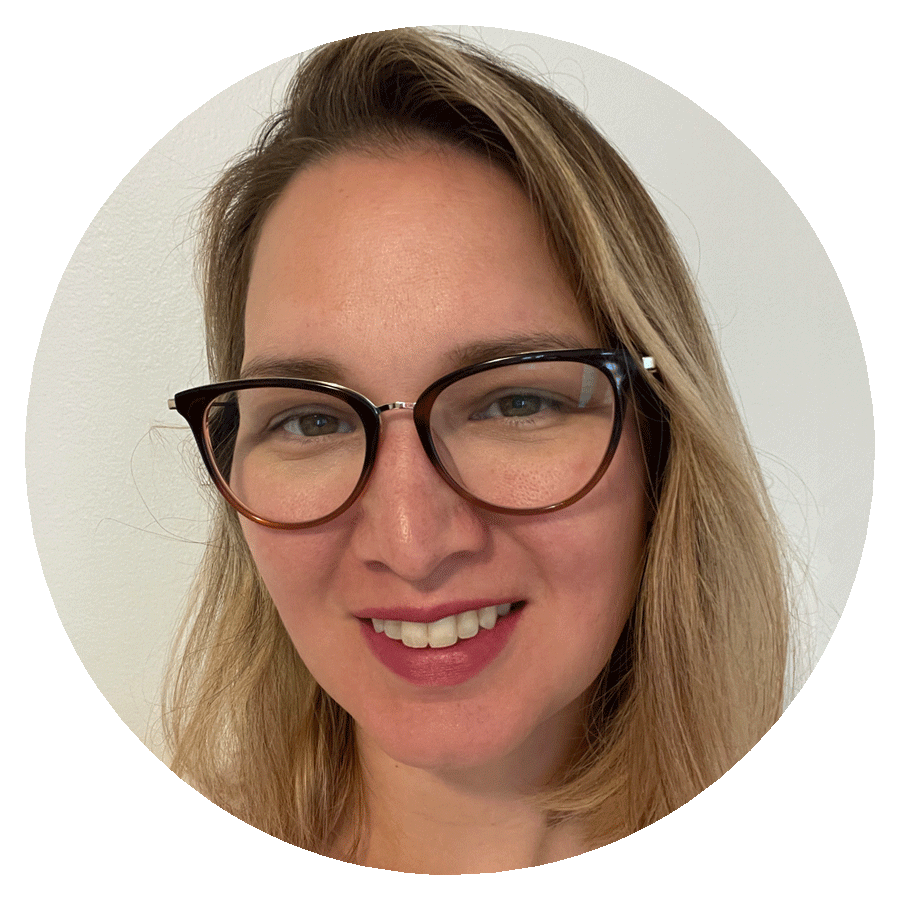 Krista Ulujuk Zawadski is from Igluligaarjuk (Chesterfield Inlet) and Rankin Inlet, Nunavut. She identifies as an Inuk curator, anthropologist, arts leader, researcher, scholar and writer. Her areas of expertise are Arctic anthropology, collections-based research, storywork, Inuit curatorial research and practice. Krista's outlook, research and work are deeply rooted in her upbringing in Nunavut, and she feels it reflects in many aspects of her work.
Sponsors
This event has been made possible via the generous support of the following organizations: the Social Sciences and Humanities Research Council of Canada, the Canada Council for the Arts, the imagineNATIVE Film + Media Arts Festival, York University's Department of Cinema & Media Arts, the York University Indigenous Scholarly Events and Outreach Activities program, Queen's University, and the Toronto International Film Festival.