Archive/Counter-Archive is proud to co-present Enduring Care, on Wednesday Dec. 1st.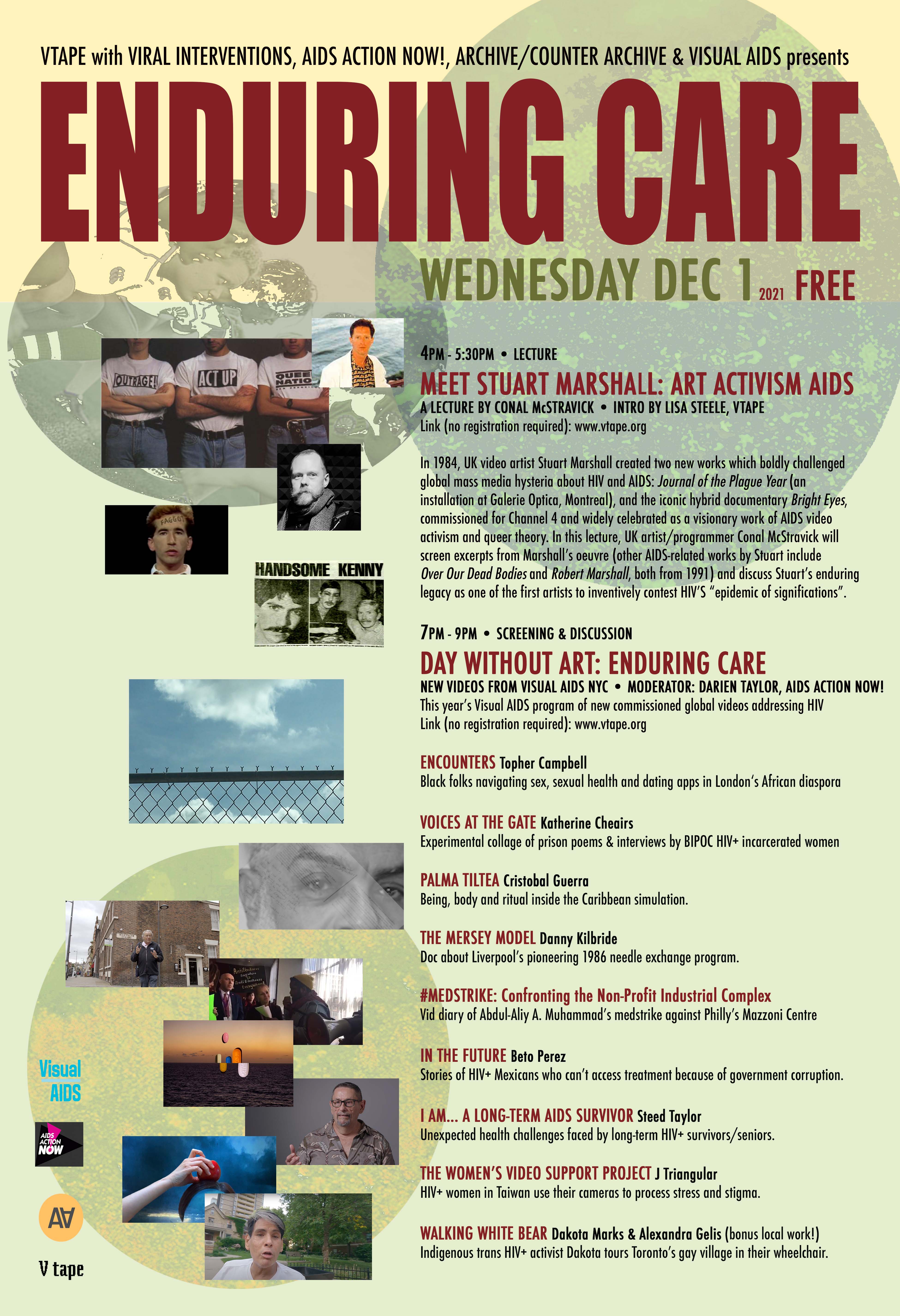 Wednesday, December 1, 4:00 p.m. EST, Meet Stuart Marshall: Art Activism AIDS - free, accessible through Vtape: https://vtape.org/event/day-without-art-2021-conal-mcstravick-on-stuart-marshall

 Vtape hosts a live illustrated talk by artist and researcher Conal McStravick on the work of video artist and AIDS activist Stuart Marshall, introduced by Lisa Steele.

In 1984, UK video artist Stuart Marshall created two new works which boldly challenged global mass media hysteria about HIV and AIDS: Journal of the Plague Year (an installation at Galerie Optica, Montreal), and the iconic hybrid documentary Bright Eyes, commissioned for Channel 4 and widely celebrated as a pioneering work of AIDS video activism and queer theory. In this lecture, UK artist/programmer Conal McStravick will screen excerpts from Marshall's oeuvre (other AIDS-related works by Stuart include Over Our Dead Bodies and Robert Marshall, both from 1991) and will discuss Stuart's enduring legacy as one of the first artists to contest HIV's "epidemic of significations."

Conal McStravick is a queer, non-binary artist, educator and writer who makes solo and collaborative artworks, workshops and events with artists, non-artists and communities that engage LGBTQ+ and queer feminist activisms, cultures, histories and practices through interventions in moving image, performance and text. This foregrounds past and future communities and activisms of care through LGBTQ+ and AIDS activist archives. McStravick has exhibited in the UK and overseas, including collaborative exhibitions and events at Generator, Dundee, CCA Glasgow, CCA Derry-Londonderry, Enclave, London and The Northern Quarter, Newcastle, with collaborators including Laura Aldridge, Kathryn Elkin, Simone Hutchinson, Alexander Kennedy, Cara Tolmie, and Patrick Staff. They have appeared on panels and given presentations on Stuart Marshall, AIDS activism and broader cultural activisms at BFI Flare, Birkbeck, Concordia University, Glasgow International and Chelsea College of Art, where they guest lecture. They regularly contribute to Art Monthly and Art Monthly on Resonance FM. Recent curatorial projects include the collaborative research projects Learning in a Public Medium and Picturing a Pandemic, in partnership with LUX.

Stuart Marshall was an educator, writer, and independent filmmaker and video artist.  His work focuses on the historical and political construction of homosexual identity as a deviant, "outsider" category, positioning the homosexual as the catch-all "bogeyman" of societal fears and conformist pressure. His documentary Bright Eyes (1984) is a similarly complex and unique study of the pathology of fear and manipulation surrounding the AIDS crisis. Striving to educate broad audiences on issues of grave social importance, Marshall's work makes the most of alternative media's power to counteract the "objectivity" of dominant media, supplying viewers with additional viewpoints and facts that television news conveniently edits out. Formally, Marshall's approach to documentary also places him firmly outside the typical news organization, as he includes interview subjects in his creative process. Marshall died of an AIDS-related illness in 1993.

Wednesday, December 1, 7:00 p.m. EST, Screening and discussion. Day Without Art: Enduring Care. Accessible through Vtape: https://vtape.org/event/day-without-art-2021

For over thirty years, Visual AIDS has organized annual observances of Day With(out) Art on December 1st, calling on art institutions to respond to the ongoing AIDS crisis. Every year since 2014, Visual AIDS has created and distributed free video programs to universities, museums, art institutions, and AIDS organizations to be screened on or around December 1st, World AIDS Day.
On Wednesday, December 1, at 7:00 p.m. EST, here at vtape.org, we present the Visual AIDS online program ENDURING CARE, a series of videos highlighting strategies of community care within the ongoing HIV epidemic. The program features newly commissioned work by Katherine Cheairs, Cristóbal Guerra, Danny Kilbride, Abdul-Aliy A. Muhammad and Uriah Bussey, Beto Pérez, Steed Taylor, and J Triangular and the Women's Video Support Project. Hosted by Darien Taylor.
From histories of harm reduction and prison activism to the long-term effects of HIV medication, ENDURING CARE centers stories of collective care, mutual aid, and solidarity while pointing to the negligence of governments and non-profits. The program's title suggests a dual meaning, honoring the perseverance and commitment of care workers yet also addressing the potential for harm from medications and healthcare providers. ENDURING CARE disrupts the assumption that an epidemic can be solved with pharmaceuticals alone, recasting community work as a lasting form of medicine.

We follow the Visual AIDS program with Walking White Bear, a new video by Dakota Marks (2021, 18 min.), introduced by the artist and project facilitator Alexandra Gelis.

Visual AIDS is a New York-based non-profit that utilized art to fight AIDS by provoking dialogue, supporting HIV+ artists, and preserving a legacy, because AIDS is not over.