It is our great pleasure to welcome you to join us online for the 2021 A/CA Symposium Keynote. We are excited to have Paula Amad, Associate Professor of Film Studies at the University of Iowa, as our keynote speaker on December 9, presenting ""Wanted Dead or Alive: From the Archive to the Counter-Archive in Documentary Film."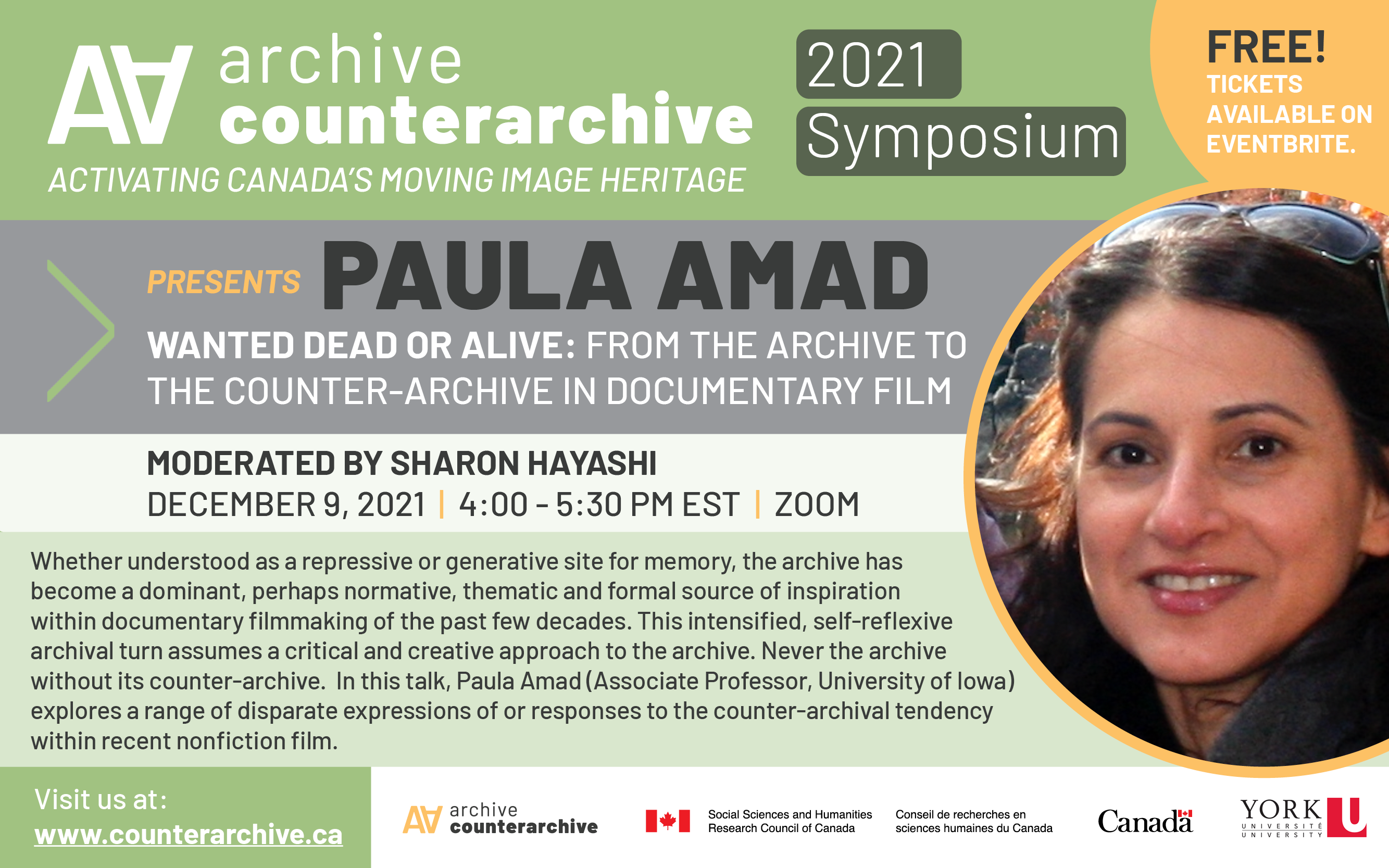 "Whether understood as a repressive or generative site for memory, the archive has become a dominant, perhaps normative, thematic and formal source of inspiration within documentary filmmaking of the past few decades. This intensified, self-reflexive archival turn assumes a critical and creative approach to the archive. Never the archive without its counter-archive.  In this talk I explore a range of disparate expressions of or responses to the counter-archival tendency within recent nonfiction film.  The films to be discussed include Bill Morrison's meditation on the lost-and-found politics and poetics of archival film in Dawson City: Frozen Time (2016), Akram Zaatari's experimental essay film on the archive of the photographer Hashem al Madani in 28 Nights and a Poem (2015), Shirley Abraham and Amit Madheshiya documentary elegy to the vanishing culture of itinerant film exhibition in India The Cinema Travellers (2016), Peter Jackson's recent First World War commemorative archival film They Will Never Grow Old (2018), and Onyeka Igwe's embodied and queer decolonization of the imperial film archive in A So-Called Archive (2021)."

Paula Amad is an Associate Professor of Film Studies and Director of Graduate Studies in the Department of Cinematic Arts, University of Iowa. She is the author of Counter-Archive: Film, the Everyday and Albert Kahn's Archives de la Planète (Columbia University Press, 2010) and numerous articles, in, amongst other journals, Feminist Media Histories, Modernism/Modernity, Representations, Camera Obscura, History of Photography, Cinema Journal, Film History, and Framework. Her research has been supported by awards including a J. Paul Getty Postdoctoral Research Fellowship (2006-7), and an International Grant for Philosophy and Photography Research, from The Shpilman Institute for Photography (2011), and she is also the recipient of the 2014 Katherine Singer Kovács Award for Outstanding Essay by the Society for Cinema and Media Studies for her article in Cinema Journal titled "Visual Riposte: Looking Back at the Return of the Gaze as Postcolonial Theory's Gift to Film Studies." She is currently completing a second book focused on the airplane and camera as the twin vision and dream machines of early twentieth-century modernity. Her essays have been translated into French, Italian, German, and most recently Chinese.

Registration is mandatory for the keynote. ASL interpretation will be provided. Please note that the keynote will not be recorded.